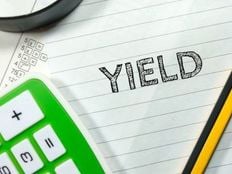 Institutional Income Strategies Channel
While high yield fixed income faced a bumpy road in 2022 (like all bond funds), rising interest rates and wider credit spreads have led yields on so-called junk bonds to soar to 8% from a little over 5% from a year ago.
Plus, the high yield fixed income market is seeing some tailwinds in the face of better-than-expected economic conditions. These include stronger fundamentals (particularly for the energy sector), lower debt issuance, and low default rates.
"High yield debt is well positioned to have a strong year in 2023 and beyond, given the above factors remain constant," wrote Daniel Chivu for Trackinsight, before adding: "The time horizon on high yield is equally important to the sector allocation, as historical data shows. A time horizon of +5 years is associated with outperformance 94% of the time."
In a recent appearance on CNBC's Worldwide Exchange, BondBloxx Investment Management co-founder Joanna Gallegos said that while there's still reason to be cautious, fixed income "has a huge potential to deliver better performance in 2023."
"We're at new rate levels we haven't seen in over a decade plus, and so, you're really resetting valuations in a way that are very attractive," Gallegos added.
For investors wanting targeted high yield exposure, BondBloxx has seven industry sector-specific high yield bond ETFs.
Launched in October of 2021 to provide precision ETF exposure for fixed income investors, Gallegos co-founded BondBloxx with ETF industry leaders Leland Clemons, Joanna Gallegos, Tony Kelly, Mark Miller, Brian O'Donnell, and Elya Schwartzman. The team has collectively built and launched over 350 ETFs at firms including BlackRock, JPMorgan, State Street, Northern Trust, and HSBC.
In addition to the seven bond funds, BondBloxx has launched a total of 19 fixed income ETFs, including three ratings-specific high yield bond ETFs, eight target-duration U.S. Treasury ETFs, and one short-duration emerging market bond ETF.
"BondBloxx has continued to launch innovative products since its founding and has expanded the ETF universe with targeted products where there is white space," said Todd Rosenbluth, head of research at VettaFi. "Their broad range of fixed income funds makes them a firm to watch as the asset category grows."
For more news, information, and analysis, visit the Institutional Income Strategies Channel.