Institutional Income Strategies Channel
What Does the Data Indicate to Us?  
VettaFi and our clients can use a robust dataset, called Explorer, to understand what asset classes, categories, and areas of focus are resonating with our audience. This is helpful for spotting trends and helping asset managers understand what products are in focus.     
In the screenshot below from Explorer using data since July, note the teal bars (corporate broad-based) in the middle of the chart. They became larger than the green bars (government-Treasuries) at the bottom of the chart.   
Interest in U.S. Corporate Bonds Rising in Favor of Treasury Bonds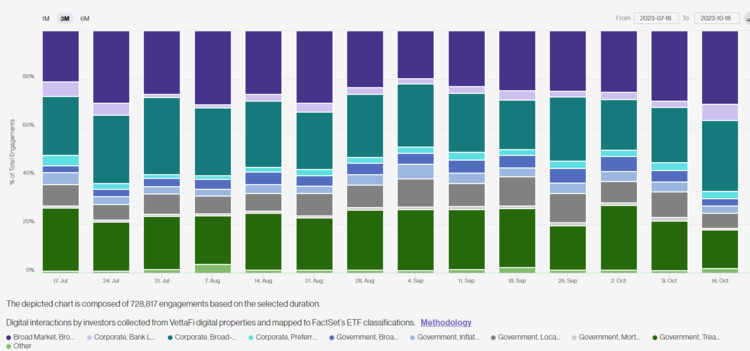 ---
Content continues below advertisement
A Closer Look at Fixed Income Flows 
Looking back over the past month, demand has been strongest for high-quality safe-haven ETFs. Ultra-short ETFs like the (BIL A-) and (SHV A-) were among the most popular according to VettaFi's LOGICLY data. BIL and SHV added $4.0 billion and $1.9 billion of new money as of October 19, respectively. Meanwhile, the Year Treasury ETF+ (TLT B-) matched its much-less-rate-sensitive sibling SHV in flows. 
What also catches my attention is the demand for municipal bond ETFs and active ETFs. The (MUB A) and the (VTEB A+) were among the largest fixed income ETF asset gatherers. Others included the (MINT A-) and the (FBND B). 
VettaFi Income Symposium attendees are going to hear from Fidelity during the kick-off session. We will focus on where advisors were putting money to work in fixed income in 2023 and what's ahead for 2024. A later session that day will involve active managers talking about the risks and opportunities in the municipal bond market. 
 Largest Fixed Income ETF Net Inflows in Past Month 

Investors Redeemed High Yield ETFs 
In contrast, the (JNK A-) had the highest net outflows, with $2.7 billion redeemed in the past month. High-yield peers like the (HYG B+) and the (HYLB A-) also had sizable net outflows. Investors have been rewarded for taking on credit risk and not interest rate risk thus far in 2023. The three diversified high yield ETFs were up approximately 3% for the year, in contrast to the highly rate sensitive TLT that was down more than 11%. Meanwhile, the more targeted (XCCC ) had a nearly 9% total return for the year.  
Largest Fixed Income ETF Net Outflows in Past Month 

Despite the recent flows data, based on VettaFi sentiment, investors are looking more closely to learn about corporate bonds heading into 2024. We hope you join VettaFi's upcoming events to hear from the experts.
For more news, information, and strategy, visit Vettafi | ETFDB.