Institutional Income Strategies Channel
Yields for short-term Treasuries continue to climb in the opening months of 2023 as the Fed maintains its rate-hiking regime. In the wake of economic uncertainty, and the potential of Fed easing in the near future, there is a strong opportunity to position defensively in short-term Treasuries that are offering close to 5% yield to maturity.
Recession risks and the potential of prolonged interest rates northward of 5% while the Fed battles to bring down persistent inflation are creating major headwinds for U.S. equities this year. Treasury bills tend to be a popular refuge in times of economic downturn for the fixed rate of interest they provide as a source of stable income.
The BondBloxx Bloomberg One Year Target Duration US Treasury ETF (XONE ) offers targeted exposure to one-year U.S. Treasuries. XONE seeks to track the Bloomberg US Treasury One Year Duration Index, an index that has exposure to U.S. Treasuries with a duration between six and 18 months.
XONE has a yield to maturity of 4.90% and net flows of nearly $50 million year-to-date ($49.32 million) as more advisors and investors position for an economic downturn. Treasuries, particularly shorter duration ones, historically become a popular cash alternative during times of market stress and economic downturn, and the ability to capture targeted 1-year duration within Treasuries makes XONE a fund worth consideration as part of the fixed income sleeve of a portfolio.
Treasury notes and bonds included in the index come from both the Bloomberg US Treasury Index (12-18 month duration) and the Bloomberg US Short Treasury Index (6-12 month duration) and are sorted into two "duration buckets" that are market cap weighted. These two buckets are then blended to create the weighting that enables the Index to meet its target duration at each monthly rebalancing.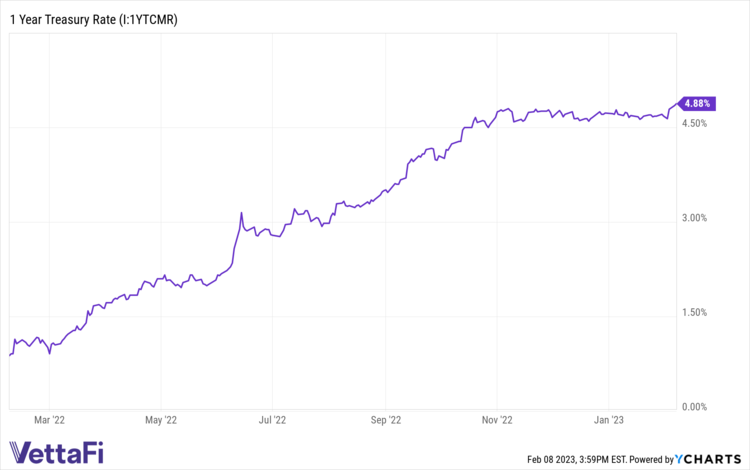 There is increasing opportunity in bonds that are now yielding significantly more than a year ago, with volatility likely leveling out as the Fed reaches a culminating point in its rate-hiking regime. The 1 year Treasury rate is currently at 4.88% compared to just 0.88% one year ago and is well above the long-term average of 2.87%.
XONE has an expense ratio of 0.03%.
For more news, information, and strategy, visit the Institutional Income Strategies Channel.
---
Content continues below advertisement