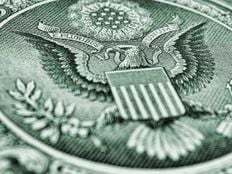 Institutional Income Strategies Channel
U.S. Treasury yields rose Friday after the Labor Department posted that wholesale prices went up in November. The , which measures how much companies pay for their products in the pipeline, went up 0.3% for the month and 7.4% from a year ago.
Excluding food and energy, core PPI was up 0.4%. Core PPI was up 6.2% from a year ago, versus 6.6% in October.
With this new data, it's likely that the Federal Reserve will raise interest rates again, though most likely by 0.5%. The Fed has implemented four consecutive 75 basis point rate hikes to curb persistently high inflation.
The more closely watched consumer price index, a key inflation indicator, is due out on Tuesday. The Fed is scheduled to conclude its meeting and announce what it plans to do with interest rates the following day.
With inflation still going strong and the Fed expected to continue raising interest rates, investors think the likelihood of a recession is growing. And with Treasury yields on the rise, fixed income investors may want a more precise, lower-cost way to get exposure to U.S. Treasury Securities. That's where  can help.
In September, BondBloxx launched that track indexes that achieve target durations using U.S. Treasury securities, instead of specific maturities or maturity ranges. The indexes, developed by Bloomberg Index Services, include duration-constrained subsets of U.S. Treasury bonds with more than $300 billion outstanding.
Launched in October of 2021 to provide precision ETF exposures for fixed income investors, BondBloxx was founded by ETF industry leaders Leland Clemons, Joanna Gallegos, Tony Kelly, Elya Schwartzman, Mark Miller, and Brian O'Donnell. The team has collectively built and launched over 350 ETFs at firms including BlackRock, JPMorgan, State Street, Northern Trust, and HSBC.
In addition to the eight Treasury funds, BondBloxx has launched , , and . All told, BondBloxx has issued 19 fixed income ETFs since February.
"BondBloxx has continued to launch innovative products since its founding and has expanded the ETF universe with targeted products where there is white space," said Todd Rosenbluth, head of research at VettaFi. "Their broad range of fixed income funds makes them a firm to watch as the asset category grows."
For more news, information, and analysis, visit the .