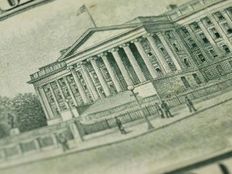 Institutional Income Strategies Channel
U.S. Treasuries saw their yields rise sharply throughout 2022 as the Federal Reserve aggressively raised interest rates. But with the threat of a recession looming over the economy and inflation appearing to have peaked, investors are betting on the Fed pulling back on its hawkish stance on fighting inflation through quantitative tightening.
More people expect a recession in 2023 than at any time in the last 50 years, according to a survey conducted by the Philadelphia Federal Reserve. Should a recession occur, the Fed could reduce interest rates in the second half of 2023. This could provide investors with potential capital gains on their U.S. Treasury positions as rates fall.
"Longer duration U.S. Treasuries could provide outperformance potential in anticipation of the downward policy pivot by the Fed," according to the BondBloxx 2023 Fixed Income Market Outlook.
In September, BondBloxx Investment Management announced the launch of a suite of eight target-duration U.S. Treasury ETFs, which seek to offer investors a more precise, lower-cost way to get exposure to U.S. Treasury securities. The funds track a series of indexes developed by Bloomberg Index Services that include duration-constrained subsets of U.S. Treasury bonds with more than $300 billion outstanding.
The target durations range from six months to 20 years. They're the first ETFs designed to track indexes that achieve target durations using U.S. Treasury securities, instead of specific maturities or maturity ranges.
"In today's rapidly changing interest rate environment, key priorities for portfolio managers and investors are earning higher yields on strategic cash positions, precisely managing duration risk, and having effective collateral tools," said BondBloxx client portfolio manager JoAnne Bianco in a news release. "BondBloxx Target Duration U.S. Treasury ETFs may help investors in all these areas, with the potential benefits of being lower cost, transparent, liquid and tax efficient."
Launched in October of 2021 to provide precision ETF exposure for fixed income investors, BondBloxx was founded by ETF industry leaders Leland Clemons, Joanna Gallegos, Tony Kelly, Mark Miller, Brian O'Donnell, and Elya Schwartzman. The team has collectively built and launched over 350 ETFs at firms including BlackRock, JPMorgan, State Street, Northern Trust, and HSBC.
Since February, BondBloxx has launched 19 fixed income ETFs, including seven industry sector-specific high yield bond ETFs, three ratings-specific high yield bond ETFs, eight duration-specific U.S. Treasury ETFs, and one short-duration emerging market bond ETF.
For more news, information, and analysis, visit the Institutional Income Strategies Channel.