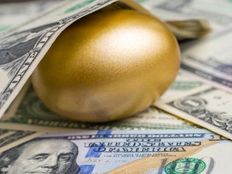 Institutional Income Strategies Channel
Investors have been more confident about putting money into high yield fixed income now that many believe that inflation and the Federal Reserve's rate hikes have peaked. Data from Refinitiv Lipper show that so-called junk bond funds have enjoyed five consecutive weeks of positive net inflows through November 23, bringing in a total of $13.47 billion of investor capital during that time, the largest sustained run of inflows this year.
With yields on below-investment-grade corporate bonds tracked by Intercontinental Exchange's index reaching 8.8%, Steven Foresti, chief investment officer for asset allocation and research at Wilshire Advisors, told clients about the value of these funds.
"There is much more utility to these investments than there was even less than a year ago," Foresti told the .
The Journal also noted that high yield bonds have outperformed higher-rated corporate debt in 2022 (-11% vs. -16%, respectively, according to ICE's indexes). Foresti said that this is primarily due to high yield bonds typically coming due more quickly than their investment-grade counterparts, meaning their prices are likely to fall less when interest rates rise.
Bonds were hurt this year as the Fed implemented the steepest rate hikes in decades to curb high inflation. But the last consumer price index report showed that inflation, while not down, was getting lower. This makes Wall Street believe that the U.S. central bank will slow its pace on raising rates going forward.
Launched in October of 2021 to provide precision ETF exposure for fixed income investors, was co-founded by ETF industry leaders Leland Clemons, Joanna Gallegos, Tony Kelly, Mark Miller, Brian O'Donnell, and Elya Schwartzman. The team has collectively built and launched over 350 ETFs at firms including BlackRock, JPMorgan, State Street, Northern Trust, and HSBC.
"Our conversations with investors have reinforced what we already knew – there is significant demand for more targeted fixed income products," said Kelly. "Our initial product suites aim to create a full toolkit for high-yield investors looking to implement their specific views on the market, and we anticipate extending this approach to other fixed income asset classes."
Since February, BondBloxx has launched 19 fixed income ETFs, including , , , and .
For more news, information, and analysis, visit the .