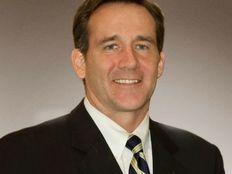 Sean O'Hara, President of Pacer ETFs, sat down with ETF Database and discussed the Pacer family of strategy-driven ETFs, including their lineup of Trendpilot ETFs and Cash Cow ETFs. We also discuss how investors can integrate the Pacer ETFs into their portfolios as well as ETF risks and industry trends.
ETFdb.com: Please tell us a little about yourself and about the career trajectory that led you to becoming President at Pacer ETFs.
Sean O'Hara (S.O.): I've been on the distribution side for 32 years. I worked at PLANCO/Hartford on the wholesaling side, selling annuities, 401(K) plans and similar products. Joe Thomson was one of the co-owners of PLANCO/Hartford. When I had the opportunity, I decided to work with Joe Thomson again. We eventually decided to become an ETF issuer for ourselves.
We're a little different than most ETF providers. Our suite of products is more strategy-driven. We believe in the financial advisory distribution model. Our sales and marketing efforts focus on the FA channel.
ETFdb.com: What would you say are some of the benefits and risks associated with ETFs?
S.O.: The benefits of ETFs come from their structure. They have several advantages over traditional mutual funds. There are lower costs and potentially lower taxes.
One of the bigger risks in ETFs right now is that investors do not completely understand what are in these products. Some similar-sounding ETFs could be completely different. That's why we focus on FAs, who are knowledgeable about these products and can help their clients understand where they fit in portfolios. FAs have the time, knowledge and resources to understand what makes one ETF different than another.
Read How Smart Beta Can Help You Navigate The Market Cycle and better position your portfolio within a rising rate and improving economic environment.
ETFdb.com: Pacer ETFs has had an impressive growth story so far. They have accrued $1 billion in AUM in under two years. The Pacer ETFs lineup includes eight rules-based ETFs for passive investors. What are the benefits of using rules-based approaches to ETF investing?
S.O.: The primary benefit is transparency. The rules are easy to understand, especially when determining how each ETF should act in certain environments.
As it relates to our products, having these rules also takes out some of the emotion of investing. By following the 200-day simple moving average, our ETF can move from fully being invested in stocks into a mixture of stocks and T-bills, or then either fully into T-bills or back into equities. When there is a bear cycle, a lot of people don't want to go into the market. It's very difficult to convince people when it's time to get back into equities. Our rules-based approaches takes that emotion out of investing.
We have four products in our Trendpilot series. They are the Pacer Trendpilot 750 ETF (PTLC ), the Pacer Trendpilot 450 ETF (PTMC ), the Pacer Trendpilot 100 ETF (PTNQ ) and the Pacer Trendpilot European Index ETF (PTEU ).
We also have four ETFs in our Cash Cows series. They are the Pacer Global Cash Cows Dividend ETF (GCOW), the Pacer Developed Markets International Cash Cows 100 ETF (ICOW), the Pacer US Cash Cows 100 ETF (COWZ), and the Pacer US Small Cap Cash Cows 100 ETF (CALF).
Use our Head-To-Head Comparison Tool to compare two Cash Cow ETFs in the Pacer family, such as the Pacer US Cash Cows 100 ETF (COWZ) and the Pacer US Small Cap Cash Cows 100 ETF (CALF), on several criteria such as performance, assets, volume and expenses.
ETFdb.com: Let us take a deeper dive into the Pacer Trendpilot 750 ETF (PTLC ). How is it different from other large-cap-focused ETFs in the marketplace? What type of an investor should use this ETF? When should the investor use this ETF in his or her portfolio?
S.O.: PTLC is very similar to other large-cap ETFs. When you own a basket of large-cap equities, you own a very broad-based group of stocks. However, our difference is the 200-day simple moving average. That determines how much of our ETF is invested in equities or T-bills. The primary reason for this strategy is that it allows investors to participate when the market is going up, but if the market enters a bear market cycle it can move to protect on the downside.
We think anybody who has an investment portfolio that includes large-cap or mid-cap or European stocks and who values the protection of their capital should use these ETFs. More specifically, we think people who are near retirement or are in retirement and might not have a long time to recover would be the most likely to benefit from a strategy like Trendpilot.
We also think these ETFs should be in a portfolio all the time. PTLC and others in the series are different than other ETFs. It's not used as a trading opportunity. And any tactical decisions one makes about how much of a large-cap/mid-cap/Europe balance one should have in their portfolio can be implemented around Trendpilot strategies.
Others in the Trendpilot series include the Pacer Trendpilot 450 ETF (PTMC ), which tracks the Wilshire US Mid-Cap Index, the Pacer Trendpilot 100 ETF (PTNQ ), which tracks the Nasdaq-100 Total Return Index and the Pacer Trendpilot European Index ETF (PTEU ), which follows the FTSE Eurozone Total Return Index.
For a full list of Pacer ETFs, click here.
ETFdb.com: Pacer ETFs also has four Cash Cow ETFs. Can you briefly discuss that particular product lineup? Under what circumstances should investors use each of the four ETFs in their portfolios?
S.O.: We have done a lot of research internally to determine what metrics identify high-quality stocks over time. We found, using free cash flow yield as a screening metric to identify stocks, that stocks with higher free cash flow yield have higher returns than stocks with lower free cash flow yield over time. When we researched this more, it became apparent that using free cash flow yield to screen broader indexes to a smaller amount of names – 100 – had the potential to produce higher returns over time.
Basically, if you would not buy a stock individually because you don't think the fundamentals are very good, why would you buy that stock in a broad-based index?
We see these as great complements to a traditional equity portfolio. If you're investing in broader market ETFs, complementing your portfolio with one of our Cash Cows ETFs could produce higher returns over time.
If you look at our Pacer US Cash Cows ETF (COWZ), we screen down the Russell 1000 index to just 100 names using free cash flow yield as the metric. Then we weight that differently. That produces an index and ultimately an ETF with 100 names in it that we know have high free cash flow yield but also trade at a discount versus the P/E ratio of the overall market.
The COWZ ETF is a fundamentally weighted ETF that uses free cash flow yield as a metric. To learn more about other ETF weighting methodologies, read Smart Beta: Index Construction and Methodology.
ETFdb.com: What advice would you give investors and advisors when it comes to navigating the complex and diverse international ETF space?
S.O.: My advice would be for investors to work with a financial advisor and know what you own. Not all ETFs are made the same. Some use different weighting schemes. Some use portfolio optimization. Getting good advice is critical.
ETFdb.com: How do you see the ETF industry evolving over the next five years?
S.O.: I think there is going to be continued growth in ETF assets. This has been a great period for ETFs. There have been a lot of innovations. There are a lot of people trying to figure out what part of the industry they have the best part in succeeding in.
I think the three trends we'll see are 1) continued growth in AUM, 2) the big low-cost beta guys will continue to focus on lowering fees, and 3) smaller companies are going to get big by providing value and solutions for investors.
For more ETF news and analysis, subscribe to our free newsletter.
The Bottom Line
Investors who value capital preservation can use the Trendpilot ETFs. More specifically, people who are near retirement or are in retirement and who might not have a long time to recover would be most likely benefit from the Trendpilot strategies.
Pacer believes that the biggest trends affecting the ETF industry in the coming years are growth in ETF assets, fee compression in the smart beta space, and the rise of smaller companies as they continue providing value-added services to investors.
---
Content continues below advertisement