Leveraged & Inverse ETF Channel
Next week at Exchange, I will spend 30 minutes moderating a panel on thematic investing, indexing, and ETFs on Tuesday, February 7 at 9:30 AM with Laura Morrison of Direxion and Ryan Issakainen of First Trust. 30 minutes is not nearly enough time to address the broad range of topics within the thematic space, so here are a list of questions/thoughts about thematic investing that I would like to discuss with attendees throughout the week of Exchange. I hope to hear your insights regardless of whether you agree or disagree with some of these statements. To learn more about the event and register, please visit the Exchange website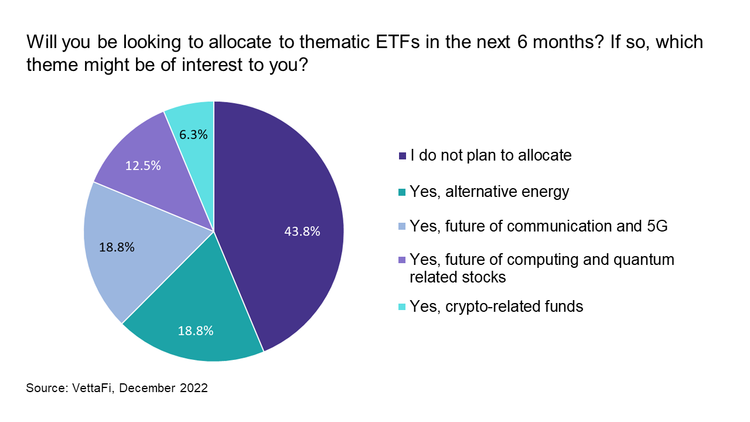 1 – What is keeping advisors from allocating to thematic ETFs?
According to survey data from December, a large portion of advisors aren't planning on allocating to thematic ETFs in the next six months. But the majority of thematic indexes were down double digits by the end of 2022, which likely led to negative sentiment for investors and advisors who were already on the fence. YTD, thematic indexes have been performing much better, investors are becoming less risk averse, and fear of higher interest rates is starting to diminish—so I wonder if survey results would be different if this exact same question was asked in January. Additionally, I think some investors may not see a space for thematic investing in their portfolio, but thematic ETFs can serve in a variety of different roles within a portfolio—for example, as a higher risk/return portion of a larger technology allocation or as a sector/sub-sector replacement (e.g., electric vehicles for autos, e-commerce for consumer discretionary, or biotechnology for healthcare). 
2 – Is tech the big story behind thematic indexing?
Tech is one of the biggest drivers behind innovative thematic trends like e-commerce, biotechnology, streaming and gaming, internet/web 3.0, and blockchain. But there are plenty of other megatrends underlying thematic ETFs that don't necessarily center around technology. Consumer spending, for example, will likely be one of the biggest drivers behind thematic investing ideas like e-commerce or travel and leisure. Additionally, there are thematic ETFs based on future infrastructure needs like the First Trust Alerian U.S. NextGen Infrastructure ETF (RBLD), which depend a lot more on regulation and government spending. Thematic investing is not just a tech story, but I think it will still be a large part of what we'll see in 2023 especially since artificial intelligence has been one of the hottest topics of the year so far.  
3 – How will the consumer drive the economy?
Consumers have historically accounted for over 2/3 of U.S. GDP and lately the consumer has been stressed by inflationary pressures. According to the Bureau of Economic Analysis, personal savings rate as a percentage of disposable income was only 3.4% as of December 2022—slightly higher than a couple of months ago but still near lows not seen since 2015. I think price-sensitive consumers will look for ways to save money shopping for goods like using online shopping to search for discounts and promotions, which may benefit e-commerce ETFs like the First Trust S-Network E-commerce ETF (ISHP). In other words, even though consumer spending may cool down, e-commerce share of total retail sales may continue to rise and be a long-term positive for the space as more traditional retailers invest in their e-commerce operations. I also think luxury spending like travel and leisure will continue to be strong as less price-sensitive consumers continue to spend on luxury goods previously held up by supply chain issues and vacations that were missed during the pandemic. ETFs like the ALPS Global Travel Beneficiaries ETF (JRNY) may benefit as consumers continue to engage in "revenge travel" and buying higher-end items. 
4 – What actually drives outperformance in thematic products?
Thematic investing is based on long-term megatrends rooted in shifts in consumer preferences, regulatory changes, or innovation. When translated to individual companies, these themes often reflect demand which drives top-line (gross revenue) growth. For companies that sell goods or services, gross revenues are typically derived from price per unit multiplied by units sold (on a high level). Assuming demand for the product continues to rise, units sold will increase. If demand is particularly strong, customers will even be willing to pay higher prices. But there's a lot more beyond top line growth that affects the future of a company. Recently, many companies have had to deal with rising supply chain costs, material costs, labor issues like layoffs and wage pressure, and higher marketing expenses. These higher expenses can lead to lower profits despite stronger revenue growth. A large majority of companies are valued on forward earnings or forward EBITDA rather than forward sales, so any cost pressures could drive stock prices down. While long-term demand would likely outweigh any short-term cost issues, it's important to recognize these cost issues and how they can affect performance, especially since the market can sometimes be near-sighted post quarterly earnings reports. 
5 – Are thematic trends driving creation of new companies or changing the way existing companies operate?
Thematic trends breed innovation, and for a while there were many SPAC mergers with a large portion being in disruptive technology and growth-oriented industrial manufacturing stocks, including electric vehicle, space, and biotechnology companies. These companies are often higher risk/higher reward and can be too volatile for many investors. But thematic trends also affect existing companies which adapt and evolve their operations toward new market trends. These are typically larger, more stable companies. For example, while there are many high profile new entrants within the electric vehicle space, the majority of industry revenue is actually driven by legacy automakers like Toyota Motor Corp (7203 JT), General Motors (GM), and Ford Motor Co (F). In the streaming space, Netflix (NFLX) is not necessarily a new or higher risk company but is the only pure-play video streaming stock and a leader within the segment. Existing media companies which used to focus on broadcast or other entertainment like Walt Disney (DIS) and Warner Bros Discovery (WBD) are now adapting to consumer demand for streaming media and ramping up their streaming operations in order to stay competitive with Netflix. Thematic ETFs allow diversification beyond a single early mover company or a group of higher risk, new entrant companies by including these legacy companies which also benefit from thematic trends. I think this is one of the main benefits of investing in thematics through ETFs rather than individual stocks.  
Bonus Question: Will crypto make a comeback in 2023?
While Bitcoin prices were down 65.0% last year, they are already up 38.4% YTD. This year, six out of ten of the highest performing U.S. ETFs are crypto-related ETFs. The Valkyrie Bitcoin Miners ETF (WGMI) is currently the highest performing U.S. non-leveraged ETF YTD up 98.7% as of January 31. Bitcoin prices have been rebounding as investors regain confidence in the overall stock market and become less risk averse as the Fed shows signs of a less aggressive stance. But I also think both the cryptocurrency and blockchain equity ecosystem has matured. Investors and analysts are becoming smarter and also becoming more realistic about what sort of returns to expect. I think we'll see some renewed interest in crypto throughout the year, although investors will likely be more cautious. 
Related thematic indexes and ETFS: 
The Alerian US NextGen Infrastructure Index the underlying index for the First Trust Alerian US NextGen Infrastructure ETF (RBLD). 
The S-Network Global E-Commerce Index (ECOMX) is the underlying index for the First Trust S-Network E-Commerce ETF (ISHP). 
The S-Network Global Travel Index the underlying index for the ALPS Global Travel Beneficiaries ETF (JRNY). 
The S-Network Space Index the underlying index for the Procure Space ETF (UFO) and the Procure Space UCITS ETF (YODA).  
The S-Network Streaming & Gaming Index the underlying index for the First Trust S-Network Streaming & Gaming ETF (BNGE). 
The S-Network Electric & Future Vehicle Ecosystem Index the underlying index for the First Trust S-Network Future Vehicles & Technology ETF (CARZ). 
The Alerian Galaxy Global Blockchain Equity, Trusts & ETPs Index (BCHAIN) is the underlying index for the Invesco Alerian Galaxy Blockchain Users and Decentralized Commerce ETF (BLKC). 
The Alerian Galaxy Global Cryptocurrency-Focused Blockchain Equity, Trusts & ETPs Index (CRYPTO) is the underlying index for the Invesco Alerian Galaxy Crypto Economy ETF (SATO). 
VettaFi LLC ("VettaFi") is the index provider for BLKC and SATO, for which it receives an index licensing fee. However, BLKC and SATO are not issued, sponsored, endorsed or sold by VettaFi, and VettaFi has no obligation or liability in connection with the issuance, administration, marketing or trading of BLKC and SATO.
For more news, information, and analysis, visit the Leveraged & Inverse Channel.
---
Content continues below advertisement