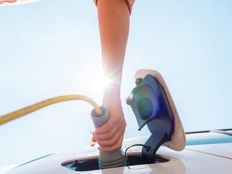 Leveraged & Inverse ETF Channel
The proliferation electric vehicles (EVs) is continuing at a rapid rate, particularly with federal government subsidies to make room for the necessary infrastructure. Large automotive companies like GM are paving the way for more growth by installing thousands of electric chargers.
"General Motors is moving ahead with plans to install as many as 40,000 electric vehicle chargers in, mostly, rural parts of America," a noted. "This comes as GM plans to sell exclusively zero-emission passenger vehicles by 2035."
More and more countries around the globe are working to reduce their carbon footprints, so likewise, more automakers are jumping on the move towards electrical vehicles. A move by a large automotive company like GM only confirms the trend towards more electric vehicles on the road.
"There are currently about 43,000 charging stations of this type in America," the report added. "If all 40,000 units are installed, GM's program would nearly double the current number of stations."
This opens opportunities to trade the trend of EVs with exchange traded funds (ETFs) that capture this niche in the automotive market. Moreover, there are also leveraged funds that can essentially trade the news within the sector when a large automotive company like GM makes such a move.
Trade the EV Trend
Launched earlier this year, one ETF to consider, especially for traders looking to maximize their gains with added leverage, is the . The fund seeks to achieve 200% of the daily performance of the Indxx US Electric and Autonomous Vehicles Index.
The index provides exposure to 25 U.S.-listed companies poised to disrupt the existing transportation market by bringing new and cleaner modes of transportation, such as electric and autonomous vehicles. It includes companies beyond vehicle manufacturers to paint a more holistic picture of the industry. The index includes charging station manufacturers such as ChargePoint and Blink, companies involved in software development and the manufacturing of various electrical components, and electric vehicle manufacturers such as Tesla, Lucid, and NIO.
"The path to long-term acceptance and widespread adoption of electric and autonomous vehicles is brighter than ever before," said Direxion managing director and head of product Dave Mazza in a news release. "EVAV allows traders to take an amplified bullish position on electric and autonomous vehicles, along with the infrastructure to support them."
For more news, information, and strategy, visit the .
---
Content continues below advertisement