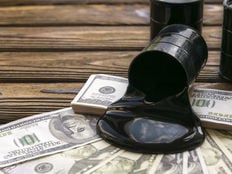 Leveraged & Inverse ETF Channel
Crude oil prices plunged as the coronavirus contagion spread, and many U.S. energy companies struggle to stay afloat in this depressed market, potentially paving the way for inverse or bearish energy-sector exchange traded fund plays to hedge further risks ahead.
WTI crude oil futures have dipped below $50 per barrel for the first time in over a year and now sit at around $50.4 after starting the off 2020 at around $61 per barrel.
Market observers are warning that the weakness could last, with Citigroup slashing forecasts to $54 for the first quarter and $50 for the second quarter, the Wall Street Journal reports.
However, for companies in the already soft shale patch, this prolonged price drop could cause decreased profits and push companies to burn cash to service debt – energy companies will experience a twice-yearly redetermination of borrowing limits by banks that is based on the prices of energy futures.
"If there's a truly substantial decline in demand with no corresponding cut to supply, then the pace of bankruptcies will accelerate," Charles Beckham Jr., a partner at Haynes and Boone who specializes in restructuring, told the WSJ. "We are seeing far less patience among energy investors."
Dragging on energy market expectations, China's widespread quarantines, public panic and stalled industries threaten to diminish a once steady and large consumer of raw materials.
Traders who are wary of further weakness in the energy segment may turn to inverse ETF options to hedge against further declines. For instance, the ProShares Short Oil & Gas (NYSEArca: DDG) tries to reflect the inverse or -100% daily performance of the Dow Jones U.S. Oil & Gas Index.
For the risk-tolerant or more aggressive trader, the ProShares UltraShort Oil & Gas ProShares (DUG A-) takes two times the inverse, or 200%, daily performance of the Dow Jones U.S. Oil & Gas Index, and the Direxion Daily Energy Bear 3X Shares (ERY A) reflects three times the inverse or -300% daily performance of the energy select sector index. Additionally, the Direxion Daily S&P Oil & Gas Exploration & Production Bear 3X ETF (DRIP B) provides the -3x or -300% daily performance of the S&P Oil & Gas Exploration & Production Select Industry Index.
This article originally appeared on ETFTrends.com.