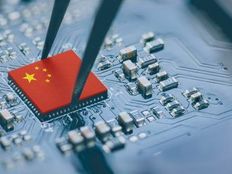 Leveraged & Inverse ETF Channel
With the proliferation of artificial intelligence (AI) usage, semiconductor technology plays a pivotal role. Recent advancement in China should spur more innovation in the industry.
As reported by the South China Morning Post, scientists in China have been able to develop new wafers for semiconductors that are thinner and more efficient. Wafers play a crucial role in semiconductor manufacturing with their ability to house essential components. Therefore, China's latest breakthrough is potentially revolutionary, especially if they can be mass produced for use in consumer electronic devices.
"Just one atom thick (thereby termed 2D'), the new 12-long (30.5 cm) wafers can be cheaply and potentially revolutionize the semiconductor industry, its creators claim," Interesting Engineering reported. "While more work is needed to turn them into usable microchips, the new wafers could complement, even challenge, traditional silicon chips."
However, one of the challenges scientists faced was addressing the logistics of production. This is especially true when it came to making large quantities of the wafers. If a process can be identified to produce a large number of these wafers, then mass consumption could result and the use of "2D" wafers could be used in a variety of applications.
"We proved to the industry that this is scientifically feasible and instilled confidence. If there are industrial demands in the future, progress in this field will advance by leaps and bounds,"  study lead Professor Liu Kaihui of Peking University told SCMP in an exclusive interview.
Global Competition Heats Up
With this new technological discovery, global competition can certainly heat up especially between the two largest economies in the world. The United States is looking to wean itself off reliance on China for semiconductor technology. Therefore, this will only ramp up pressure domestically to produce technology that rivals China.
In the meantime, traders can take advantage of short-term moves to the upside in semiconductors via the Direxion Daily Semiconductor Bull 3X ETF (SOXL B+). The fund seeks daily investment results equal to 300% of the daily performance of the PHLX Semiconductor Sector Index.
The top holdings in SOXL feature the biggest movers and shakers in the domestic semiconductor industry. This includes household names like NVIDIA, Broadcom, and Intel. They should be under pressure to perform given China's latest technological breakthrough.
For more news, information, and analysis, visit the Leveraged & Inverse Channel.
---
Content continues below advertisement