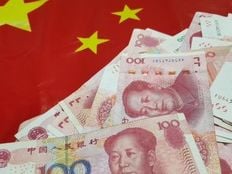 Leveraged & Inverse ETF Channel
China's economy continues to see growth as its doors have re-opened following a resurgence in COVID-19 cases. Traders are finding bullish opportunities in the second-largest economy after a number of roadblocks over the past few years.
"China's first-quarter gross domestic product rose sharply while global peers face slowing growth as central banks hike rates to tame inflation," CNBC reported.
Furthermore, China's GDP grew at its quickest pace in over 12 months after last year's global bearishness amid high inflation and rising interest rates. China was also dealing with the pangs of tighter restrictions on big technology companies and the aftermath of a real estate development crisis, but it appears to be sloughing off these effects.
"GDP grew by 4.5% in the first quarter, China's National Bureau of Statistics said Tuesday (April 18)," the report added further. "That marks the highest growth since the first quarter of last year — when China's economy grew by 4.8% — and better than the 4% forecast in a Reuters poll. Quarter-on-quarter, the economy grew 2.2%."
Triple Leverage China's Bullishness
Global investment firm Goldman Sachs predicted that more bullishness could be ahead for China. This should keep traders who are looking to capitalize on the country's upside appeased for the rest of the year should their forecasts for economic growth pan out.
"Goldman Sachs said China's first-quarter growth of 4.5% supports the firm's full-year outlook for the economy to grow 6%," CNBC added.
Given this bullishness, traders can opt for triple leverage using the (YINN B). YINN specifically tracks the FTSE China 50 Index, which consists of the 50 largest and most liquid public Chinese companies currently trading on the Hong Kong Stock Exchange.
"Today's data are in line with our full-year bullish view for China growth," Goldman Sachs' chief China economist Hui Shan told CNBC.
"That is the kind of the rebound after the reopening [and] is at the core of why we have our above consensus forecast of 6% growth for the full year," Shan added further.
For more news, information, and analysis, visit the Leveraged & Inverse Channel.
---
Content continues below advertisement