Leveraged & Inverse ETF Channel
Cloud computing has been one of the ongoing themes that have propelled the technology sector in this year's equities comeback. Cloud services spending reached $68 billion during the third quarter.
The growth of this area can also be attributed to the exponential growth of artificial intelligence (AI) demand. Both disruptive technologies can feed into each other. This is because the world is becoming increasingly reliant on automated services. That opens up investment opportunities for long- and short-term investors.
According to a CRN report, the $68 billion "represented global growth of $10.5 billion year over year as generative AI demands and services continue to thwart any economic disruption."
Additionally, the ISE CTA Cloud Computing Index, which measures the performance of cloud computing companies, is up over 30% for the year. Running alongside that performance is the Nasdaq CTA Artificial Intelligence Index, which is also up over 30% year-to-date.
"For the last three quarters the market grew by around $10 billion compared with 2022. In Q3 that incremental annual growth nudged up to $10.5 billion. Take a bow, AI said John Dinsdale, chief analyst and managing director at Synergy Research Group. "As an already massive cloud market keeps on growing, the year-on-year growth rate almost inevitably declines. But we are now starting to see a stabilization of growth rates, as cloud provider investments in generative AI technology help to further boost enterprise spending on cloud services. It is still early days for generative AI, but the technology will help to keep cloud growth buoyant over the coming years."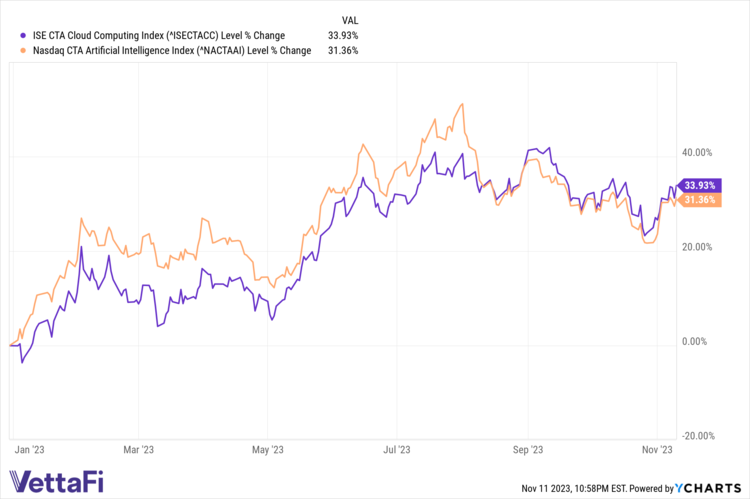 A Pair of Leveraged Trading Options
Traders who think the cloud computing trend will continue to provide gains through the end of the year can look at the (CLDL C), which seeks 200% of the daily performance of the Indxx USA Cloud Computing Index. The companies included in the index are involved in the delivery of computing services — servers, storage, databases, networking, software, analytics, and more, over the internet — more broadly referred to as "the cloud."
Given the ongoing growth potential of AI, traders should also consider the (UBOT B-) as an additional play. The fund seeks daily investment results equal to 200% of the daily performance of the Indxx Global Robotics and Artificial Intelligence Thematic Index, which aims to provide exposure to companies in developed markets expected to benefit from the adoption and use of robotics and/or AI.
For more news, information, and analysis, visit the Leveraged & Inverse Channel.
---
Content continues below advertisement