Leveraged & Inverse ETF Channel
The global race to obtaining critical minerals should only rise as the reliance on clean energy technology increases. China, in particular, has been ambitious with mergers and acquisitions that would only shore up its critical minerals resources.
In recent years, many countries have been aligning themselves with each other in this critical minerals race, forming key partnerships where certain countries are abundant in critical minerals supply. However, it's been led by China, according to data from S&P Global.
"Although many countries — including the United States — are increasingly aware of these minerals' importance, S&P analysts noted that it is China that has been the most active in these pursuits," MINING.com explained. "This is evident in the number of mergers and acquisitions involving Chinese firms."
S&P Global data revealed China's recent acquisitions of lithium assets by mining companies and producers since 2018. Lithium is a key element in developing batteries for electric vehicles. The rise of lithium prices have also been coinciding with the increased mergers and acquisitions activity in the past five years.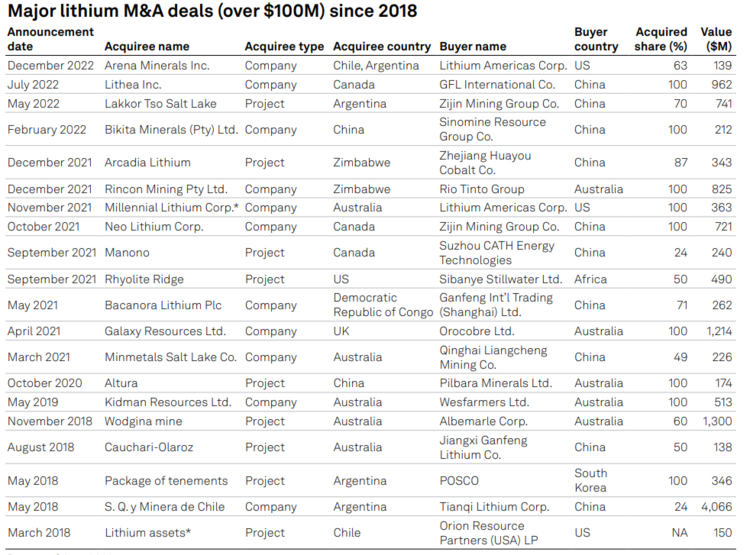 Although China is currently facing stagnant economic growth, the demand for critical minerals shouldn't stumble with the general economy. S&P Global doesn't foresee a lull in mergers and acquisitions activity as China looks to right its economic ship with government stimulus measures.
"Although demand from downstream EV markets has softened recently on slowing global growth, we expect interest in these minerals to persist and acquisitions to continue as firms across related industries grapple with supply security and cost volatility," S&P said.
---
Content continues below advertisement
Trade the Clean Energy Trend
While the global transition to clean energy can provide long-term investment opportunities, there are also short-term opportunities available. This can include options in individual stocks, but involve opening multiple trading positions. As such, exchange traded funds (ETFs) are an ideal option for broad exposure.
More specifically, for the bold trader looking to maximize their profits, they can consider the Direxion Daily Global Clean Energy Bull 2x Shares (KLNE C). The fund seeks to return 200% of its benchmark index, the S&P Global Clean Energy Index, in a single day.
The index gives exposure to developed market countries whose economic fortunes are in the global clean energy business. These include companies that are involved in the production of clean energy or provide green energy technology and equipment.
For more news, information, and analysis, visit the Leveraged & Inverse Channel.