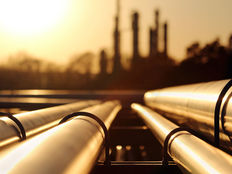 Leveraged & Inverse ETF Channel
Oil prices fell nearly 2% on Thursday, extending the previous session's 3% drop, to trade a little over $54/barrel, driven lower by heightening recession concerns and a surprise boost in U.S. crude inventories.
The drop follows a selloff on Wednesday, when WTI fell more than 5% after rallying robustly the day before. At one point black gold was trading down -$3.07 (-5.38%) to $54.03. Brent crude fared almost as badly, with the global benchmark falling $2.96 per barrel (-4.83%), and below $60 again, at $58.34.
Oil's demise has been the result of a number of occurrences. On Tuesday, the
API
reported a surprise crude oil inventory build of nearly 4 million barrels, jolting markets that had just seen massive increases on earlier news that the United States was pushing back tariffs for some of the items anticipated to go into effect in the beginning of September.
Then on Wednesday, dire economic data game in from China, revealed a precipitous decline in industrial output growth to a 17-year low. Germany also reported anemic economic data for Q2 as its exports slowed, hinting at a possible recession, along with the inverted yield curve news, which tanked stocks.
The final blow on Wednesday was the Energy Information Administration (EIA) report that supported Tuesday's API report of a build in US crude oil inventory.
A recession occurred, on average, 22 months after the inversion, Credit Suisse research showed. However, investors are bailing out of higher risk assets like crude and seeking shelter in Treasurys, gold, and Japanese Yen.
Crude is also being affected by news that a representative at China's Ministry of Foreign Affairs, said China "hopes the U.S. will meet China halfway and implement the consensus reached by the two leaders during their meeting in Osaka," generating a positive outlook for a resolution between the two countries.
That news arrived after China initially said it has to take necessary countermeasures for the latest U.S. tariffs on $300 billion of Chinese goods, adding the U.S. tariffs violated a consensus reached by leaders of two countries, which drove the market lower overnight.
The United States Oil Fund (USO) is down over 1% on the news, while VelocityShares 3x Long Crude Oil ETN (UWT ) is down 4.52%, and the ProShares Ultra Bloomberg Crude Oil (UCO A) also following suit, is down more about 2.5% today.
This article was originally published on our sister site, ETFtrends.com.