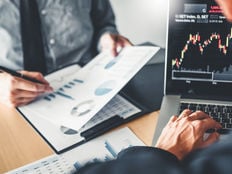 Leveraged & Inverse ETF Channel
Direxion has expanded its range of buy and hold products with the launch of the three new ETFs: the Direxion Dynamic Hedge ETF (Ticker: DYHG, Net Expense Ratio: 0.57%), the Direxion High Growth ETF (Ticker: HIPR, Expense Ratio: 0.40%), and the Direxion Fallen Knives ETF (Ticker: NIFE, Expense Ratio: 0.50%).
"Recent market events have reminded investors about the need for diversification and created opportunities to introduce unique exposures in portfolios," said Dave Mazza, Managing Director at Direxion. "We're excited to introduce these strategies to help investors build more robust portfolios in a challenging market environment."
Mazza told ETF Trends that HIPR and NIFE are intended for investors looking for outperformance for alpha generation while on the other end of the spectrum, DYHG is a fund for risk mitigation.
With the past few months once again highlighting the foundational challenge for most risk-averse investors, these strategies look to cost-effectively limit downside impact, while still participating in the upside of the markets over time. DYHG, which seeks investment results that track the Salt truVolTM US Large Cap Dynamic Hedge Index, is a potential core equity holding offering a systematic hedging methodology that seeks to responsively mitigate market risk.
Tony Barchetto, CFA, Founder and Chief Investment Officer of Salt Financial, told ETF Trends that investors have been clamoring for new ways to participate in equities while still playing defense, which is where DYHG comes in.
"Low vol funds can only do so much and tail risk products can be effective but often require the investor to get the timing right," Barchetto told ETF Trends. "We look to solve those problems with single strategy that aims to automatically reduce risk by hedging in response to higher volatility.
He added that they leveraged their core analytics (truVol) using intraday price data to help the strategy respond faster to market events, saying no other index provider to our knowledge uses this type of data in their index development.
"Direxion's core competency in trading made them an ideal partner for this type of strategy," Barchetto said.
Shaping A Dynamic Hedge
"DYHG is intended for investors who are intending to gain exposure to U.S. equities but have a built-in risk mitigator," Mazza states. "The way the built-in risk mitigator on this fund works is by using high-frequency pricing data to forecast the volatility environment. When it forecasts that the volatility environment is going to be high, it increases its hedge. When forecasting that the volatility is going to be low, it decreases the hedge."
"It's an extremely dynamic way for investors that's responsive but still provides the long-term equity market return that they're looking for, but with a much smoother ride than what one would find with traditional strategies," said Mazza.
He continues, "The real differentiator with DYHG, compared to what others are doing, is the true vol mechanism because it's so responsive and dynamic. If volatility changes quickly, it will respond quickly, because it's not just relying on end of day prices, it's using pricing throughout the day, and it has the means to give higher weight to data that is more recent, than data in the past."
---
Content continues below advertisement
Tracking Hyper Growth
HIPR seeks to track the investment results of the Russell 1000 Hyper Growth Index, a rules-based methodology that targets stocks with an attractive combination of traditional growth stock measures – such as revenue, earnings, and cash flow growth – as well as appealing quality and price momentum measures. This combination results in a portfolio of large and mid-cap domestic companies with the potential for both high and sustained growth over time, rather than targeting traditional growth stock measures alone.
Watching Out For Fallen Knives
Finally, NIFE seeks to track investment results of the Indxx US Fallen Knives Index, which identifies companies that have experienced significant price deterioration, making them possibly poised for a price revival. Investing in stocks that may be subject to some short-term controversy – fallen knives – is a commonly deployed strategy. It, however, requires a disciplined, rules-based approach in order to separate those with likely temporary (rather than secular) business and price declines. Screening for eligible names that have both recently experienced substantial price decline, but maintained strong measures of financial health, increases the likelihood of a price rebound and offers the opportunity for a highly differentiated exposure.
"As noted earlier this year, Direxion remains committed to introducing new products that offer exposure to longer-term investment themes, while remaining a leading Leveraged and Inverse ETF provider for traders," said Rob Nestor, President at Direxion.
This article originally appeared on ETFTrends.com.