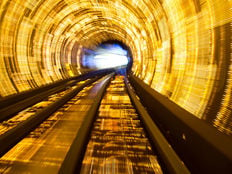 Leveraged & Inverse ETF Channel
The risk-on optimism in the stock market right now could be fleeting, which could pave the way for gold prices to surge in 2020.
Long-term bullishness in gold could result from recessionary pressures on the markets as well as ramifications from a U.S.-China trade war if it continues without a concrete resolution.
"From a physical perspective, if you're an investor from a medium to longer term perspective, you just stay with this market and if your holdings are under your percentage allocation that you were looking to apply to your portfolio from the perspective of gold, then you just add to the position at these levels because I think 2020 is going to be a very, very volatile year and I think it's going to be very positive for the metals," said Peter Hug Global Trading Director, Kitco Metals.
In the short term, technical analysis might seem to favor the bears, but that could be a misnomer.
"Technically, the gold bears have the overall near-term technical advantage," wrote Jim Wyckoff in Kitco News. "Prices are in a two-month-old downtrend on the daily bar chart. Bulls' next upside price objective is to produce a close in December futures above solid resistance at $1,500.00. Bears' next near-term downside price breakout objective is pushing December futures prices below solid technical support at $1,400.00. First resistance is seen at Monday's high of $1,467.40 and then at $1,475.00. First support is seen at Monday's low of $1,448.90 and then at $1,440.00."
Traders looking to buy the dip can look at the *Direxion Daily Gold Miners Bull 3X ETF (NUGT B-)*, which makes a play on gold miners. NUGT seeks daily investment results, before fees and expenses, of either 300%, or 300% of the inverse (or opposite), of the performance of the NYSE Arca Gold Miners Index.
The index is a modified market capitalization-weighted index comprised of publicly traded companies that operate globally in both developed and emerging markets, and are involved primarily in mining for gold and, to a lesser extent, in mining for silver. The Index will limit the weight of companies whose revenues are more significantly exposed to silver mining to less than 20% of the Index at each rebalance date.
This article originally appeared on ETFTrends.com.
---
Content continues below advertisement