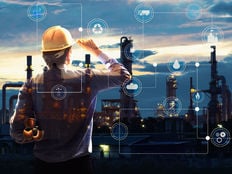 Leveraged & Inverse ETF Channel
In particular, operators are liking what they see in terms of commodity prices, capital investment and development costs. While the $100 per barrel price target that some analysts saw in 2018 appears a bit far-fetched now, a $65-$75 per barrel price range is a bit more realistic after a flattening of prices within the $55 to $60 range, according to the study.
"Even though positive market sentiment matches with recent first-quarter price gains, the question is whether 2019 can maintain a rally and avoid another tale of two halves," says Nilesh Dayal, report coauthor and Managing Director at L.E.K. Consulting. "And operators think it can. In fact, they believe prices will be high enough to maintain capital spending throughout 2019 and possibly even drive growth relative to last year."
ETF traders looking for leveraged oil plays can consider the following:
1. United States 3x Oil (USOU): USOU seeks the daily changes in percentage terms of its shares' per share NAV to reflect three times the daily change in percentage terms of the price of a specified short-term futures contract on light, sweet crude oil. USCF will endeavor to have the notional value of the fund's aggregate exposure to the Benchmark Oil Futures Contract at the close of each trading day approximately equal to 300% of the fund's NAV. The Benchmark Oil Futures Contract is the futures contract on light, sweet crude oil as traded on the NYMEX, traded under the trading symbol "CL."
2. UBS ETRACS ProShares Dly 3x Lng Crud ETN (WTIU): With WTIU, the 3X long securities provide a daily long leveraged exposure to the performance of the Bloomberg WTI Crude Oil Subindex ERSM. The index is designed to measure the return from a rolling long position in WTI crude oil futures contracts that trade on major U.S. exchanges.
3. VelocityShares 3x Lng Crude Oil ETN New (UWT): UWT seeks to replicate three times of the S&P GSCI® Crude Oil Index ER. The index tracks a hypothetical position in the nearest-to-expiration NYMEX light sweet crude oil futures contract, which is rolled each month into the futures contract expiring in the next month. The value of the index fluctuates with changes in the price of the relevant NYMEX light sweet crude oil futures contracts.
4. ProShares UltraPro 3x Crude Oil ETF (OILU ): OILU seeks to return a multiple (3x) of the performance of the Bloomberg WTI Crude Oil Subindex for a single day. The fund seeks to meet its investment objective by investing, under normal market conditions, in futures contracts for WTI sweet, light crude oil listed on the NYMEX, ICE Futures U.S. or other U.S. exchanges and listed options on such contracts.
For more market trends, visit ETFdb.com.