Leveraged & Inverse ETF Channel
Gold prices have dropped significantly lately, reaching yet another milestone-low as investors saw the price of gold drop below $1,870 per ounce last week. This is the lowest the precious metal has fallen in the past six months. The trend continued early in the first week of October as investors saw it fall under $1,840 per ounce.
With gold prices in a sustained decline, investors who had interest in this asset class may begin looking elsewhere. However, investing in physical gold isn't the only way investors can gain exposure to it. Another way is by investing in ETFs that hold gold mining companies. An even more niche entrance is through investing in leveraged and inverse funds that give exposure to these businesses.
Direxion offers several different ETFs that provide leveraged and inverse exposure to such stocks.
2 Direxion Gold Miners ETFs
One gold miner ETF that can give this kind of exposure is the (JDST A). The fund provides inverse exposure to the MVIS Global Junior Gold Miners Index. This index holds small-cap companies that get at least half of their revenue from mining gold or silver. It holds mining companies in Australia, Canada, and the U.S. The fund has $89 million in AUM and has an expense ratio of 1.02%. The 10-year anniversary of the fund also came earlier this week as its inception date is October 3, 2013.
See More: Gaining Leveraged Exposure to Gold
Another option to consider that Direxion offers is the (DUST A-). The fund has an expense ratio of 1.07%, and an inception date of December 8, 2010. It has $98 million in assets under management. This fund tracks the NYSE Arca Gold Miners Index. Much like JDST's index, this index provides exposure to mining companies in Australia, Canada and the U.S. It is also very similar to the (NUGT B-) because it has the same underlying index. However, its daily target is -200% of its benchmark's performance. This makes it a prominent ETF for investors who have a more bearish short-term point of view toward the performance of gold mining stocks.
See More: Millennial Investors Like Gold
---
Content continues below advertisement
Performance of the 2 ETFs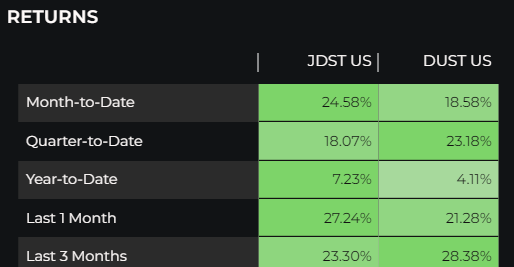 Where both of these funds have shined the most is in their short-term performance, which is where these products are designed to produce. Using LOGICLY, we are able to take a look at both DUST's and JDST's YTD performance. JDST has posted a 7.23% return, and DUST has seen a 4.11% return. YTD returns are not typically relevant when looking at these styles of funds. Yet it's worth noting that when compared to other gold miner ETFs in the same ETFDB category, the two funds are the only ones that have posted positive YTD returns.
As previously mentioned, both ETFs have performed well in their short-term performance. In the last quarter, JDST posted an 18.07% return, and DUST saw a 23.18% return. In addition, each fund has had double-digit returns in the last three months, in the last month, and in the month-to-date.
If the price of physical gold continues declining, investors may look for different and unique ways to invest in this asset class. Investing in funds like JDST and DUST can give investors the opportunity to gain inverse exposure to gold mining stocks as investors wait to see what happens with the price of physical gold.
For more news, information, and analysis, visit the Leveraged & Inverse Channel.