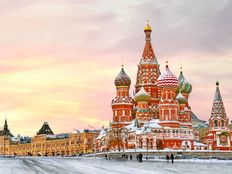 Leveraged & Inverse ETF Channel
By Direxion
Russian stocks surged more than any other international market in June, adding another wrinkle to what is already one of the most closely watched global relationships.
In the wake of June's rebound, the MVIS Russia Index (MVRSXTR), which tracks a blend of large- and mid-cap Russian companies, finds itself at its highest level since February 2018.
This bullish surge from Russia is especially apparent in the Direxion Daily Russia Bull 3X Shares ETF (RUSL B-), which tracks the MVIS Russia Index. RUSL topped its prior high early in June and has since added another 13.5% to approach levels it hasn't seen since the start of 2018.
However, while RUSL is one of the top performers of Direxion's stable of leveraged ETFs for 2019, thanks in large part to this recent surge, it's also seen some of the heaviest investor outflows at -$60 million in net redemptions over the course of June, with more than two-thirds of that occurring in the days following its new 52-week high.
By that same token, the Direxion Daily Russia Bear 3X Shares ETF (RUSS C+) has seen a modest uptick in investor interest with just over $10 million in flows over the course of June.
However, despite the hedging, Russian equities have not yet shown signs of slowing. A lot of this momentum can likely be pegged on the surge in crude oil prices thanks to increased U.S. sanctions on Iranian exports and July delivering the largest drop in U.S. inventories of the year.
The energy sector makes up more than two-fifths of the Russian index's components, with the country's two largest companies—the state-owned Gazprom and NK Lukoil —accounting for a large portion of the index. And, the relationship between oil and Russia comes into stark relief looking at the comparison chart for RUSL against the Direxion Daily Energy Bull 3X Shares ETF (ERX C+).
---
Content continues below advertisement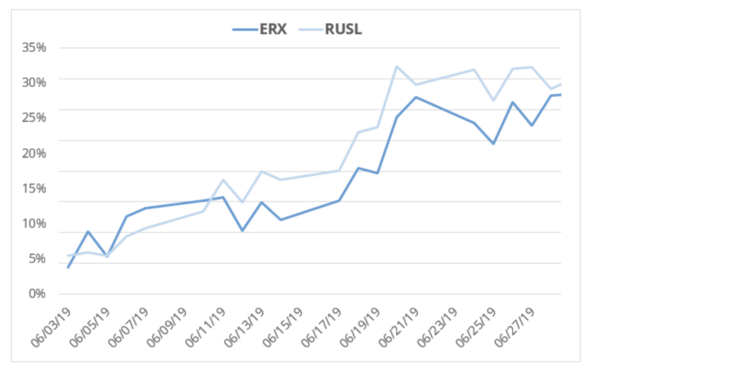 At the moment, and pending the continued correlation between the energy sector and Russian equities, crude oil prices will likely lead broad-based Russian ETFs like RUSL.
Beyond the commodity's historical volatility, there are few immediate headwinds for crude. The gradual drawdown in the U.S. dollar has certainly helped support price increases, since pricing and demand for commodities generally has an inverse relationship with the USD. Continued progress on Russia's Nord Stream 2 pipeline to Europe also raises the country's stakes in the energy market.
However, Russia bulls should remain abreast of factors that could spoil energy's resurgence. For one, while U.S. oil inventories experienced their largest weekly reduction of 2019 at 12.8 million barrels according to the Energy Information Administration, net domestic production for the year is still on-par with 2018.
Additionally, Russia's own production is coming off of 3-year low output due to a controversy around its export of 5 million tons of contaminated oil.
Ultimately, Russia's strength as an international investment rests with the strength of its energy production. Should the recent turn in U.S. production persist, and while Iran remains under strict sanctions, Russia's bull run looks to have plenty of gas in the tank.
For more on market trends, visit ETFdb.