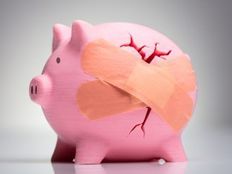 Leveraged & Inverse ETF Channel
The economy is already having to contend with inflation when it comes to stifling growth, but the current banking system could bring additional strife. The International Monetary Fund (IMF) is worried the recent bank rescues could create a perfect storm that could hamper economic growth.
Bank rescues of First Republic Bank and Credit Suisse could be the proverbial tip of the iceberg. This could create a domino effect in the entire banking system and ultimately, the economy, according to the IMF's chief economist.
"We are concerned about what we have seen in the banking sector, particularly in the U.S. but maybe also in other countries, might do to growth in 2023," said IMF chief economist Pierre-Olivier Gourinchas to CNBC.
Rate hikes are certainly not helping the cause. This is especially the case for banks that rely heavily on lending products, but with higher rates, it's turning away borrowers; as such, the bottom line takes a hit.
"Banks are in a more precarious situation. They have healthy cushions, but it's certainly going to lead them to be a little bit more prudent and maybe cut down lending somewhat," Gourinchas said.
Trading the Downtrend on Financials
If the banking system remains on shaky ground, traders can opt to short individual banks to capitalize on the bearishness. Another option that offers three times the leverage is the (FAZ A-).
FAZ seeks daily investment results that equate to 300% of the inverse (or opposite) of the daily performance of the Russell 1000® Financial Services Index. The index is a subset of the Russell 1000® Index that measures the performance of the securities classified in the financial services sector of the large-capitalization U.S. equity market.
IMF's chief economist noted that global growth could fall from a forecasted 2.8% to 2.5% if lending conditions continue to remain tight. In the grander scheme of things, it could upend the entire financial system, which doesn't bode well for the overall economy, but for bearish traders in financials, it's an opportunity.
"That would lead to massive capital flows from the rest of the world trying to go back to safety, going to U.S. Treasurys, dollar appreciation, increasing risk premia, loss of confidence," Gourinchas added.
For more news, information, and analysis, visit the Leveraged & Inverse Channel.
---
Content continues below advertisement