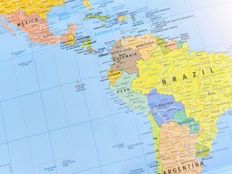 Leveraged & Inverse ETF Channel
Central banks in Latin America have already started to reduce interest rates as inflation numbers start to cool. This should open up trading opportunities.
"When global inflation surged in 2021, many of Latin America's central bankers were the first to raise interest rates, moving months before the Federal Reserve began tightening," the Wall Street Journal reported, noting that the region is all too familiar with high inflation as it "topped 3,000% in some countries in the 1980s, central-bank economists from Brasília to Lima to Mexico City knew all too well the damage that soaring prices could cause."
However, when it comes to central bank action, this is where the region comes out ahead. To counter inflation, central banks have already started to cut rates. This effectively loosens monetary policy as high prices start to fall.
"Now, Latin America is again at the forefront of the cycle, cutting rates as inflation comes back down," the Wall Street Journal added, inserting a comment from Ernesto Revilla, head of Latin America economics at Citigroup, who said that "Latin American central bankers basically said, 'We've seen this movie before.' We know that when inflation starts picking up, you better start acting against it quickly and forcefully. And they did."
Even before the start of summer, major indexes tracking the region's market performance have also been trending higher. The MSCI Emerging Markets Latin America index is up 10.14% year-to-date while the S&P Latin America 40 is just behind it with a YTD gain of 9.96%.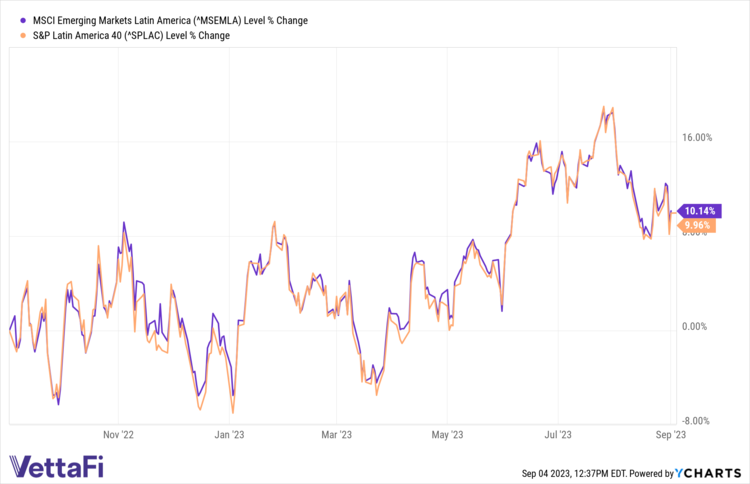 Triple Leverage Latin America
If it continues to trend higher through the final quarter of 2023, traders can get triple leverage with the Direxion Daily Latin America Bull 3X ETF (LBJ C+). LBJ seeks daily investment results equal to 300% of the daily performance of the S&P Latin America 40 Index, which is a float-adjusted market capitalization-weighted equity index of issuers drawn from five major markets: Brazil, Chile, Columbia, Mexico, and Peru.
Forecasts from the IMF noted that the region's economy should see growth for the rest of this year. Still, it trails the emerging markets (EM) average. If China can reinvigorate its lagging economy, the byproduct should be growth here as well.
"This year, Latin America is expected to grow 1.9%, compared with an average of 4% for all emerging markets and developing countries, according to the International Monetary Fund," the Wall Street Journal added further. "The economic outlook is hindered by a weaker Chinese economy, a major buyer of the region's raw materials."
For more news, information, and analysis, visit the Leveraged & Inverse Channel.
---
Content continues below advertisement