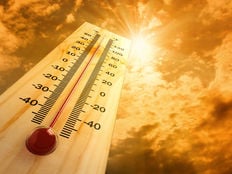 Leveraged & Inverse ETF Channel
According to the latest edition of Direxion Investments' The Xchange, it was leveraged Treasury-focused and gold miner exchange-traded funds (ETFs) that were white hot as investors piled into fixed income assets as part of a risk-off move to safe havens.
As such, there was a lot of action to be had in leveraged funds like the Direxion Daily 20+ Year Treasury Bull 3X Shares (TMF C+) and the Direxion Daily 7-10 Year Treasury Bull 3X Shares (TYD B-). The Xchange post noted that TMF rose by 38% between June and August, while TYD posted gains of 15% during that same period.
"As volatility and uncertainty rises, so too does the desire for safety and predictability," The Xchange post said. "This explains the summer's stampede-like rush to fixed income investments, particularly treasury notes. The buying spree led to a craterous drop in already low yields in fixed income (since the yield on existing notes moves inverse to the value of new ones), which in turn resulted in several inversions of the 2-year and 10-year yield charts."
As fall rushes in colder weather, tinges of orange-brown foliage, and Starbucks begins offering pumpkin-spiced lattes, traders can expect more action in fixed income.
"Heading into autumn, traders can likely expect more attention paid to the fixed-income market and other rate-sensitive instruments as all eyes turn to the Federal Reserve for three more planned meetings of the FOMC," noted The Xchange post. "Because the Fed's current monetary policy plan seems to be "there is no plan," traders will certainly be eager for whatever hints the Fed members might be willing to drop prior to the September, October and December meetings."
Traders Found Gold in Miners
It wasn't just fixed income feeling the heat from trading action, but also other safe-haven assets like gold. This translated into gains for miners and their associated leveraged funds like the *Direxion Daily Gold Miners Bull 3X ETF (NUGT B-)* as well as the Direxion Daily Jr Gold Miners Bull 3X ETF (JNUG B-).
Just how hot were these two funds? NUGT and JNUG were both up 121% and 114%, respectively.
"It should come as no surprise to anyone with even a passing knowledge of the precious metals markets that gold has seen a precipitous rise in value over the past three months, reaching highs it hasn't seen since 2013, and even then, only briefly," The Xchange post noted. "Since the start of June, gold has climbed 20% to trade at prices it's only held during a two-year span between mid-2011 and early-2013, during which it topped out at $1,837/oz."
---
Content continues below advertisement