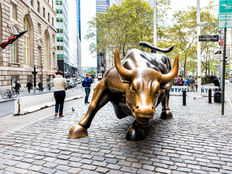 Leveraged & Inverse ETF Channel
Alphabet, the parent company of Google, reported its latest earnings beat, which could continue to push bullish traders towards the stock, especially if macroeconomic conditions improve in favor of big tech companies.
Last year's macro environment certainly did a number on big tech, but Google was able to weather the storm, though it also meant having to implement layoffs in order to cut costs. The latest earnings report is a positive sign for the search engine company in boosting its profitability prospects for the future after almost 20 years of growth.
As CNBC reported, "Alphabet's revenue rose 3% to $69.79 billion from $68 billion a year earlier, according to the earnings report. The company is mired in a multi-quarter stretch of low single-digit revenue growth after almost two decades of consistent and rapid expansion."
Additionally, Google's cloud computing business appears to be bearing fruit, in something of a cloud computing arms race with other big tech rivals.
"Google is finally generating a profit its cloud-computing business, which competes with Amazon and Microsoft," the CNBC report added further. "The unit recorded operating income of $191 million in the quarter, following a $706 million loss a year ago."
Diversification of Income
With a number of economic unknowns ahead, diversification of income will be necessary for Google to weather the storm, especially if a recession hits. However, if inflation continues to dissipate and the Fed starts to back off on its rate-hiking policy, it could keep bullish investors appeased through the year and into 2024.
In the case of Google, it means continued success in its cloud computing business, ad revenue, and even implementing share buybacks to boost the stock price.
"We were impressed by Google Search advertising revenue growth; continuing strength in the cloud business, which is making headway toward profitability, likely next year; consolidated margin expansion for the first time in three quarters; and the latest authorized share buyback," Morningstar said.
"Overall, we believe Alphabet is well positioned to benefit from an improving economic climate, which will accelerate ad spending," the report added. "On the bottom line, while capital expenditure will not go down this year, the firm's focus on efficiency should help expand margins beginning in 2024."
Traders looking to maximize profits trading shares of Google can alternatively look at single-stock exchange traded funds (ETFs). In particular, the (GGLL ) offers built-in leverage into the fund, giving traders 150% exposure to the stock.
For more news, information, and analysis, visit the Leveraged & Inverse Channel.
---
Content continues below advertisement