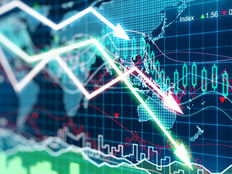 Leveraged & Inverse ETF Channel
Cboe Volatility Index, or VIX, related exchange-traded products jumped after the Treasury market triggered recession fears and increased bets to hedge further market swings.
On Wednesday, the iPath Series B S&P 500 VIX Short Term Futures ETN (VXX A-) increased 10.4%, ProShares VIX Short-Term Futures ETF (VIXY A) advanced 10.7% and VelocityShares Daily Long VIX Short-Term ETN (VIIX B-) gained 10.3% while the CBOE Volatility Index surged to 21.7. Potential investors should keep in mind that VIX-related exchange-traded products track VIX futures and not the spot price.
Volatility typically rises when stocks pullback, so owning volatility is seen as a type of market insurance. The VIX is a widely observed indicator for investor sentiment in the stock market and measures the expected or implied volatility of large-cap stock options traded on the S&P 500 index. ETFs that track VIX futures allow investors to profit during rising volatility or hedge against short-term turns.
Sliding bond yields and the Inversion
Fueling volatility this time around, sliding bond yields and the inversion of a key part of the U.S. yield curve on Wednesday for the first time in 12 years reflected fixed-income traders' gloomy outlook and fears of a recession.
"The rates market rarely lies and globally it looks like it's expecting a day of reckoning," Tom di Galoma, a managing director at Seaport Global Holdings, told Reuters.
U.S. government bond yields have been slipping in recent weeks after the Federal Reserve embarked on its first interest rate cut in over a decade, rising uncertainty over the U.S.-China trade war and a global growth slowdown.
Related: 10-Year Falls Below 2-Year For First Time Since 2007
It all culminated with the yields on benchmark 10-year Treasuries dipping below yields on 2-year Treasuries for the first time since 2007 on Wednesday. A yield inversion is widely seen as a sign that the economy is heading into a recession. The U.S. curve has inverted prior to every recession in the past five decades and only showed a false signal just once in that period.
"We look at 2s/10s and the yield curve in general as long leading indicators," Jeffrey Cleveland, principal and chief economist at investment management firm Payden & Rygel, told Reuters. "Long because a long period can elapse between inversion and a recession. For example, 2s/10s inverted in December 2005 and the recession did not begin until December 2007: a full 24 months."
For more market trends, visit ETFdb.com.
---
Content continues below advertisement