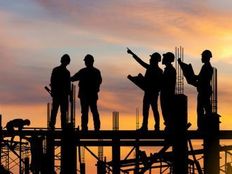 Leveraged & Inverse ETF Channel
Infrastructure has a been a major avenue for investment the past year despite the market challenges. Multinational investment firm UBS doesn't see that theme waning in 2023.
With the push from governmental legislation supporting the growth of infrastructure, investment dollars should keep flowing into the sector. U.S. President Joe Biden's infrastructure plan, passed in late 2021, should continue to be a major factor, opening up pathways for investment opportunities.
"The infrastructure sector remains resilient despite the market turmoil in 2022," in a market outlook. "Secular trends such as digitalization and decarbonization will continue to drive the need for new investments. However, macro conditions have worsened significantly. Investors can no longer count on cheap credit to boost investment returns. Looking ahead, more reflection and rigor are needed in their investment and asset management strategies to deliver positive outcomes."
As mentioned, it's been a rough and tumble year for the stock market in general. Nonetheless, infrastructure was one of the few shining stars to thrive amid the market challenges — the MSCI ACWI Infrastructure Index has also risen 9% the last few months.
"Infrastructure assets have performed relatively well in 2022," UBS said. "Based on analyst forecasts for listed infrastructure revenues, the outlook is still relatively strong across the board, with previously underperforming industries such as toll roads and airports finally seeing strong recovery."
The infrastructure play could certainly be a long-term play, but there are opportunities for short-term investment as well. The President will already be discussing infrastructure within the first week of the new year.
"Biden will head to Kentucky one day after the a new GOP House majority is sworn in to speak about 'how his economic plan is rebuilding our infrastructure, creating good-paying jobs that don't require a four-year degree, and revitalizing communities left behind,' the White House said," as .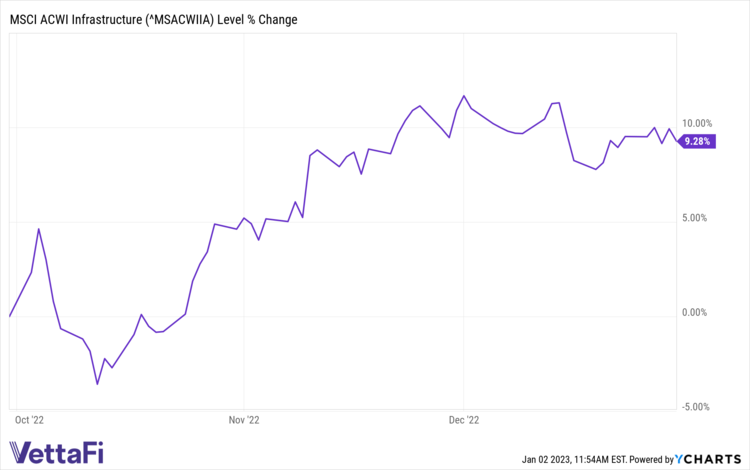 Adding Leverage to the Infrastructure Trade
This can lend itself to traders who want to play the )+. The fund adds a double dose of risk or reward with twice the exposure to its index, the Indxx US Infrastructure Index (IUSINFI).
The index is designed to track the performance of U.S.-listed securities, including ADRs, of companies that are involved in infrastructure through the engineering, design, maintenance, and construction of infrastructure projects. The index provider defines infrastructure as being comprised of construction and engineering services and industrial transportation companies.
Companies that derive a minimum of 50% of their total revenue from construction and engineering services or industrial transportation are eligible for inclusion in the index. The index provider screens companies based on various market capitalization and liquidity metrics and selects the top 100 securities by market capitalization.
For more news, information, and strategy, visit the .
---
Content continues below advertisement