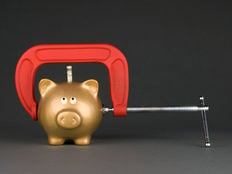 Leveraged & Inverse ETF Channel
Regional banks and sector-related ETFs could be particularly sensitive to an inverted yield curve.
"Asset sensitive" banks that are heavily weighted towards floating-rate loans could face a hit to their profits due to a slump in later-dated yields, which drag on interest these banks receive, the Financial Times reports.
"The moves up and down on a daily basis [in response to]the curve have been so violent and so quick that I'm not sure it is traditional asset managers that are causing this," Anton Schutz, who manages a portfolio of small-cap bank stocks at Mendon Capital, told FT.
Schutz believed that big money investors and algorithmic investors are closely watching these smaller banks. "Machines are trading this," he added.
Inverted yield curve
An inverted yield curve or yield inversion occurs when rates on long-term bonds fall below those of short-term debt. More recently, yields on benchmark 10-year Treasury notes dipped below those of 2-year notes.
The yield inversion also makes it harder for asset sensitive banks to turn a profit since they cannot offset falling income from floating rate loans by cutting rates they pay on deposits. On the other hand, larger banks can still rely on wealth management or payment businesses to help keep them afloat.
Some are noticing that these smaller banks are exhibiting a high correlation to the yield curve or falling as the yield curve slips lower. Asset sensitive banks are already trading in lockstep with the change in the relationship between the three-month Treasury bill and 10-year note.
Consequently, regional bank-focused ETFs like the iShares U.S. Regional Banks ETF (IAT B+), SPDR S&P Regional Banking ETF (KRE A-), and Invesco KBW Regional Bank Portfolio (KBWR B) could continue to underperform in the financial sector.
Investors may even consider something like the Direxion Daily Regional Banks Bear 3X Shares (WDRW C+) to hedge further risks in case of a major sell-off. WDRW tries to reflect the daily -3x or -300% performance of the S&P Regional Banks Select Industry Index.
This article originally appeared on ETFTrends.com.
---
Content continues below advertisement