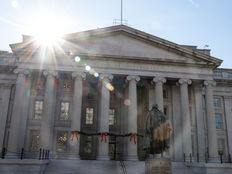 Leveraged & Inverse ETF Channel
As the markets tumbled and investors scrambled to hedge their against further risks, many capitalized on momentum in Treasury bonds and bearish commodities related ETFs.
"Over the last 12 months, experience from usual hedges has been significantly nuanced — a short positioning in stock futures (or credit-spread wideners) has been much less rewarding than a short positioning in oil, industrial commodities or a long position in Treasury futures," Gaurav Saroliya, director of macro strategy at Oxford Economics, said in a note, MarketWatch reports.
For example, over the past year, the PIMCO 25+ Year Zero Coupon US Treasury Index ETF (ZROZ C+) advanced 35.2%, Vanguard Extended Duration Treasury ETF (EDV B+) increased 31.9% and iShares 20+ Year Treasury Bond ETF (TLT B-) rose 23.2%.
In the more recent bout of selling pressure so far in 2020, the ProShares UltraShort Bloomberg Crude Oil (SCO A+) jumped 44.9%, DB Crude Oil Double Short ETN (DTO A) surged 35.1% and ProShares Daily 3x Inverse Crude ETN (WTID) rallied 72.4%.
Saroliya argued that this trend reflects a "key shift" in the way various asset classes priced risks to growth. Over the past six months, oil and Treasuries have exhibited far greater sensitivity to growth risks, whereas equities exhibited much less sensitivity.
With the recent China virus outbreak, the current situation has also followed the same trend, with copper and oil prices and Treasury yields, which fall as bond prices rise, all pressured as investors "practically [take]out all expectations of an industrial recovery that we have seen since Q4 last year," Saroliya said.
Meanwhile, the drawdown in global equities has been modest in comparison, with the S&P 500 slightly higher so far this year. Saroliya also noted that this isn't solely due to the resilience of the U.S. market as both oil and copper are underperforming the MSCI Emerging Market Index.
"This combination of a positive correlation with growth proxies and favorable investor flow tailwinds makes Treasurys the most efficient hedge against macro risks in the current environment," Saroliya added. "We have remained tactically long the 30-year Treasury bond future since the yield was 2.52%. We think the call continues to run its course and has significant residual life."
This article originally appeared on ETFTrends.com.