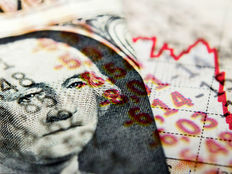 Leveraged & Inverse ETF Channel
After six consecutive down days in the market, and posting their worst day of the year on Monday, U.S. stocks recovered some losses Tuesday, only to resume the decline Wednesday.
As of 1:25 pm ETF Wednesday, the S&P 500 was down 0.66%, Dow Jones Industrial Average was down 0.81%, and Nasdaq was down 0.33% after suffering much steeper losses in the overnight session. Wednesday's losses brought both the Dow and S&P 500 down more than 3.8% for the month. The Nasdaq was down 4.3% for August.
Investors continue to target safe haven escapes like gold and bonds, with flows moving in that direction, just like on Monday when stocks dropped the most they have in a single day all year. Gold reached a more than six-year high.
"Yields are collapsing and gold is soaring," said Peter Cardillo, chief market economist at Spartan Capital Securities. "That's raising concern about the impact of the trade war on the economy."
"Investors need to be prudent and cautious here," he said.
On Monday China allowed its currency fall to its lowest level in more than a decade against the U.S. dollar, with the yuan breaking below 7 per U.S. dollar and triggering the worst sell-off of the year on Wall Street. It has since stabilized marginally. China asserts, however, that the decision was not in retaliation to the newly announced tariff.
"This looks more like a warning shot than active devaluation, with the yuan's fall a reflection of worsening economic fundamentals and rising trade tariff risks," said Mark Haefele, global chief investment officer at UBS GWM. "For policymakers in China, arbitrarily defending the 7.0 mark amid these pressures represents a moral hazard, and one which only worsens the longer it is left to build up."
"I think there's two different dynamics going on. I think the market reading into it being a currency war was over done. At most you're going to get you know a currency schoolyard fight. It's like a little moves. They I have very little interest in massively do you valuing their currency. What happens if they do that you're going to see massive capital outflow's, and they don't want to see that either," says Dan Suzuki, portfolio strategist at Richard Bernstein Advisors.
Investors are clearly still agitated about where the market is going, but fortunately there are a variety of ETFs to choose from depending on which direction they see things progressing. The Direxion Daily S&P 500 Bear 3X ETF (SPXS B+) offers investors with a bearish view of the market a chance to trade the downside, while the ProShares UltraPro QQQ (TQQQ B+) supports a more bullish view, for investors seeing the selloff as just a pullback. And for those investors seeking to avoid stocks entirely, a safe haven ETF like the GraniteShares Gold Trust (BAR A-) is an option.
For more market trends, visit ETF Database.