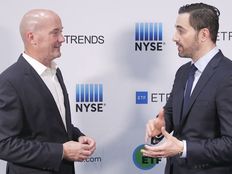 Leveraged & Inverse ETF Channel
Leveraged and inverse ETFs that boost the long exposure or short the markets have become a core part for hedging and for capitalizing on specific allocations.
"They're really intended to provide more of a tactical trading tool for investors to either amplify exposure both on the long side or as a hedging tool on the short side," said David Mazza, Managing Director, Head of Product at Direxion, at the 2019 Charles Schwab IMPACT conference. "In today's market, of course, where we saw a lot of volatility in Q4 last year and then basically a one way up trade this year, investors and traders continue to look for additional tools at their disposal to help navigate these markets and leverage and inverse are one of those."
For example, Direxion recently came out with four new leveraged and inverse ETF strategies designed to be a dynamic way for tactical traders to gain access to key parts of the equity market that either systematically look to capture a high volatile basket or to take advantage of the internet industry's potential for booms and busts.
Specifically, the Direxion Daily S&P 500 High Beta Bull 3X Shares (HIBL) and Direxion Daily S&P 500 High Beta Bear 3X Shares (HIBS) take the daily 300% and 300% inverse of the performance of the S&P 500 High Beta Index.
Additionally, the Direxion Daily Dow Jones Internet Bull 3X Shares (WEBL) and Direxion Daily Dow Jones Internet Bear 3X Shares (WEBS) seek to achieve the daily 300% or the 300% inverse of the Dow Jones Internet Composite Index.
Watch the interview between ETFdb CEO Tom Lydon and Dave Mazza:
---
Content continues below advertisement