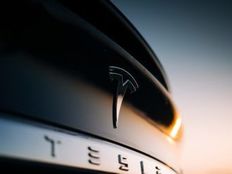 Leveraged & Inverse ETF Channel
As China's economy continues to bounce back from its re-opening, electric vehicle (EV) sales are on the rise. Tesla, specifically, saw insurance registrations jump recently, leaving open opportunities for bullish traders to capitalize on the EV manufacturer's stock.
"Tesla had 13,266 insurance registrations for the week of Feb. 27-Mar. 5, up 24% from the 10,705 in the prior week," an Investor's Business Daily article said. "The global EV giant had 10,157 Model Y registrations and 3,109 Model 3 registrations. Tesla's increased weekly insurance registrations in China follows that number nearly doubling for the week of Feb. 20-26."
The move comes as the EV maker introduced price cuts on its Model S and Model X. Given the current macroeconomic environment with high interest rates, this could help boost more sales for Tesla as the U.S. Federal Reserve continues to wrestle with monetary policy.
2022's Q4 Saw EV Sales Surpass 10 Million
In terms of its stock performance, Tesla is up almost 70% year-to-date, bouncing back from last year's stock market tumult. However, EV sales as a whole ended on a high note in a challenging 2022 marred by inflation fears and high interest rates.
"EV sales were at an all-time high during Q4 2022. The annual total for 2022 would have reached close to 11 million units had fresh COVID-19 infections not surfaced in China," said Counterpoint Research's research analyst Abhik Mukherjee.
"COVID-19 infections in China during November and December affected automotive production and sales and disrupted the component supply chain. Despite these headwinds, Chinese brands managed to record strong growth," Mukherjee added. "In fact, in 2022, many Chinese brands started to expand in markets like Europe, Southeast Asia and Latin America. Chinese brands are likely to dominate in Southeast Asia Latin America as there are very few brands operating in these regions. But a fight for market presence is expected in Europe."
Globally, Tesla accounted for about 12.1% of sales according to the research. With the world pushing to reduce its carbon footprint, more EVs on the road will be an enduring trend, which creates a growth opportunity for Tesla stock in the short- and long-term horizon.
Traders looking at Tesla's stock for profitable opportunities, particularly if the stock's bullish trend continues, consider the (TSLL ). The ETF adds an extra dose of leverage with 50% more exposure to the EV maker's stock.
For more news, information, and analysis, visit the Leveraged & Inverse Channel.
---
Content continues below advertisement