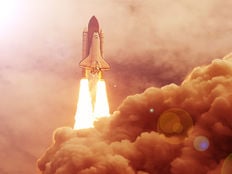 Leveraged & Inverse ETF Channel
NASA, just announced that it has awarded a contract to Colorado-based Lockheed Martin for $4.6 billion for at least 12 additional missions to the moon, including sending the first woman to the moon, by 2024. During Nasa's Orion spacecraft development, Lockheed has been the prime contractor.
According to the independent agency of the United States Federal Government responsible for the civilian space program, "NASA's Orion spacecraft is built to take humans farther than they've ever gone before. Orion will serve as the exploration vehicle that will carry the crew to space, provide emergency abort capability, sustain the crew during the space travel, and provide safe re-entry from deep space return velocities. Orion will launch on NASA's new heavy-lift rocket, the Space Launch System."
Lockheed is naturally over the moon about the news.
"This contract clearly shows NASA's commitment not only to Orion but also to Artemis and its bold goal of sending humans to the Moon in the next five years," said Rick Ambrose, executive vice president of Lockheed Martin Space. "We are equally committed to Orion and Artemis and producing these vehicles with a focus on cost, schedule and mission success."
Over The Moon
Lockheed Martin will be working under Nasa's Orion Production and Operations Contract (OPOC), an indefinite-delivery, indefinite-quantity (IDIQ) contact for NASA to issue both cost-plus-incentive-fee and firm-fixed-price orders. Initially, the space agency has ordered three Orion spacecraft for Artemis missions III-V for $2.7 billion. Then in the fiscal year 2022, the agency plans to order three additional Orion spacecraft for Artemis missions VI-VIII for $1.9 billion.
"We have learned a lot about how to design and manufacture a better Orion—such as designing for reusability, using augmented reality and additive manufacturing—and we're applying this to this next series of vehicles. Driving down cost and manufacturing them more efficiently and faster will be key to making the Artemis program a success," said Mike Hawes, Orion program manager for Lockheed Martin Space. "One must also appreciate how unique Orion is. It's a spaceship-like none other. We've designed it to do things no other spacecraft can do, go to places no astronaut has been and take us into a new era of human deep space exploration."
Related: Boeing Co. Can Help Bullish Defense ETFs
The SPDR S&P Aerospace & Defense ETF (XAR A-) which contains both Northrop Grumman Corporation (NOC) and Lockheed Martin Corporation (LMT), is on a torrid pace, gaining nearly 3% this week and almost 6% this month.
The two aerospace stocks are "trading near new highs while implied volatilities are at historic lows. This combination has been bullish for the defense stocks in the past, suggesting more upside could be in store for NOC and LMT," according to Schaeffer's Investment Research.
This article originally appeared on ETFTrends.com
---
Content continues below advertisement