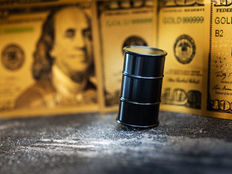 Leveraged & Inverse ETF Channel
Whether oil prices rise or fall is not a major factor to the U.S., according to Dan Brouillette, the Deputy Secretary of the U.S. Department of Energy. What is of higher importance is that the U.S. achieves energy dominance.
While a protracted U.S.-China trade war and slowing global growth could affect demand, resulting in lower oil prices, being the dominant player in energy is the modus operandi for the U.S.
"Our energy policy is not designed to affect price, that's not we do for a living. And yet it does because of our production numbers," said Brouillette at the World Energy Congress in Abu Dhabi.
"The president has an 'all of the above' strategy. He talks often about energy dominance and the world often asks: what does that mean? It just simply means that we are going to produce as much energy as we can, as cleanly as we can and as affordably as we can."
"And whatever happens to the world price of oil, whatever happens to the world price of whatever, electricity, it doesn't really matter, then so be it," Brouillette said.
In the meantime, the Organization of Petroleum Exporting Countries (OPEC) did some roster changes to its brass with a new energy minister. New Energy Minister Prince Abdulaziz bin Salman was installed over the weekend, but sources say he has a tall task ahead of him as OPEC's new head honcho.
"He's got a very tough road ahead of him, I must say. U.S. production will continue to go up all throughout 2019 and certainly to 2020," Brouillette said.
ETF Plays in Oil
Traders looking to make a play on oil can look to leveraged exchange-traded funds (ETFs). Whether they're bullish or bearish on the commodity or the energy sector, traders have a plethora of options.
Oil bears can look to the Direxion Daily S&P Oil & Gas Exploration & Production Bear 3X ETF (DRIP B) for inverse opportunities. For bulls looking to buy on the weakness can look to the United States 3x Oil (USOU ), ProShares UltraPro 3x Crude Oil ETF (OILU ) and the Direxion Daily S&P Oil & Gas Exp. & Prod. Bull 3X Shares (GUSH B).
Two additional funds for traders to consider are the Direxion Daily Energy Bull 3X Shares (ERX A-) for bullish plays and the Direxion Daily Energy Bear 3X Shares (ERY A-) for bearish opportunities to take advantage of.
This article originally appeared on ETFTrends.com.
---
Content continues below advertisement