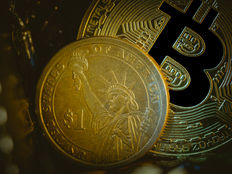 Leveraged & Inverse ETF Channel
Securities and Exchange Commission Chairman Jay Clayton didn't entirely dismiss the notion of leading cryptocurrency Bitcoin trading on a major exchange, but did say that in order to do so, it must be "better regulated."
A number of firms have tried, but one has yet to pierce the veil of SEC legitimacy with a cryptocurrency offering. The space currently holds a market cap of $177 billion, but getting an exchange-traded fund focused squarely on Bitcoin has proven to be an uphill battle to say the least.
With stories of price manipulation, fraud and exchange hacks flooding the crypto space, it's been more than enough to give the SEC pause on whether to approve a Bitcoin-focused ETF or not.
"If [investors]think there's the same rigor around that price discovery as there is on the Nasdaq or New York Stock Exchange … they are sorely mistaken," said Clayton, the opening speaker at the Delivering Alpha conference. "We have to get to a place where we can be confident that trading is better regulated."
Aside from the Bitcoin discussion, Clayton opined on giving retail investors more access to public markets like the initial public offering (IPO) space. With the IPO space relegated to institutional investing or high-net worth individuals early on in the investment process, this is something where Clayton would like more retail investors to participate.
"If the growth opportunities have shifted not all the way but to a substantial extent into our private markets and ordinary investors don't have access to them, that's not good," he said. "The question is, what do we do about it?"
Comparing Bitcoin to Gold
Bitcoin has been dubbed "digital gold" by cryptocurrency and capital markets alike, but the leading digital coin was deemed as an alternative to the precious metal by Federal Reserve Chairman Jerome Powell. Furthermore, Powell likened gold to Bitcoin as a speculative form of value.
Additionally, the Fed chair was quick to dismiss digital currency as an alternative form of payment.
"Almost no one uses bitcoin for payments, they use it more as an alternative to gold," Powell said. "It's a speculative store of value."
Speaking of Bitcoin's likeness to gold, traders can look to ETFs like the Direxion Daily Gold Miners Bull 3X ETF (NUGT B-). Additionally, short-term traders can also play the VanEck Vectors Gold Miners (GDX B+) and the Direxion Daily Jr Gold Miners Bull 3X ETF (JNUG B-).
This article originally appeared on ETFTrends.com
---
Content continues below advertisement