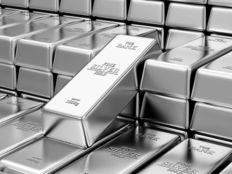 Leveraged & Inverse ETF Channel
With China in the news once again as the U.S. and China trade war has the two countries supposedly headed back to the bargaining table, according to reliable sources from China, precious metals, including silver, are rallying as investors once again drive toward safe haven assets amid economic and geopolitical uncertainty.
Precious metals like gold and silver have been the most sought-after commodity lately. While gold hit a six-year high recently, climbing above $1550 an ounce, silver prices touched the highest levels in three years as well. The risk off trade environment is also driving silver prices higher, as the white metal is sometimes regarded as a stock of wealth and an alternative investment to risky assets during economic and political uncertainty, though often less so than its golden cousin. However, elevation in the price of gold has made the white metal cheaper and the ratio of gold to silver prices, a key metric watched by precious metals investors, has fallen from July peak of 93 to 81.
As a result, silver has begun to catch up with the gold rally, even outshining the yellow metal in recent weeks. Over the last month silver has climbed from $16.50 to nearly $20 an ounce, with ETFs following suit. Silver ETFs are now handily outperforming gold from both a 10-day and a one-month perspective with iShares Silver Trust (SLV B-) climbing 14.2% and 20.7%, respectively, compared to gains of 3.1% and 7.9% for SPDR Gold Trust ETF (GLD A-).
For investors looking to score even heftier gains and willing to take on compensatory risk, the VelocityShares3x Long Silver ETN (USLV C) is up 78.45% YTD and the ProShares UltraSilver (AGQ A-) is up 50.4% YTD.
The VelocityShares3x Long Silver ETN (USLV C) seeks to replicate, net of expenses, three times the S&P GSCI Silver index ER. The index comprises futures contracts on a single commodity. The fluctuations in the values of it are intended generally to correlate with changes in the price of silver in global markets.
Meanwhile, the ProShares UltraSilver (AGQ A-) seeks daily investment results, before fees and expenses, that correspond to two times (2x) the daily performance of the Bloomberg Silver SubindexSM. The fund seeks to meet its investment objective by investing, under normal market conditions, in any one of, or combinations of, Financial Instruments (including swap agreements, futures contracts and forward contracts) based on the benchmark. The types and mix of Financial Instruments in which the fund invest may vary daily at the discretion of the Sponsor. It will not invest directly in any commodity.
This article originally appeared on ETFTrends.com.