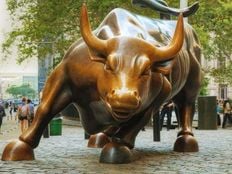 Leveraged & Inverse ETF Channel
Despite inflation and rising interest rate fears creeping back into the capital markets, the S&P 500 is still up 5% year-to-date. Another catalyst for S&P 500 bulls is relatively stable earnings despite the challenging macroeconomic environment.
Inflation is proving to be stubborn and the Fed is acknowledging that higher rates could come in order to tamp down rising consumer prices. Despite this, investors don't see the macro environment upending corporate profits as the Fed continues to wrangle with inflation.
"Stock investors have been knocked around this year as they confront a higher-for-longer scenario for interest rates, but equities have managed to advance as investors see corporate America's largest companies capable of posting relatively solid future earnings, according to DataTrek," a Markets Insider report noted.
S&P constituents such as big tech saw major weakness last year, on the anticipation that corporate profits would suffer amid higher interest rates. Big tech has countered the gloomier forecast by shedding its workforce as it prepared for a challenging year in 2023.
Whatever the case may be, investors are seemingly unfazed that rates will affect big tech and other sectors as the market recovery continues to gain steam starting late last year. Right now, the Fear and Greed Index is pegged at neutral, which is a welcome change compared to last year's tumult.
"If you want to know why US stocks remain resilient in the face of renewed interest rate uncertainty …. stable earnings expectations is the single best answer," said Nicholas Colas, co-founder of DataTrek Research.
Ride the Volatility Wave
The markets will continue to be on Fed watch so volatility is expected over the course of the year. That said, when the S&P 500 rises, traders can play to the upside with the (SPXL B+), while also playing the downside with the (SPXS B+).
This flexibility allows traders to profit when markets rise or fall. This is especially helpful in a sideways trading pattern where neither bullishness nor bearishness prevails.
"It's clear there is more work to do," said San Francisco Fed President Mary Daly in a speech Princeton University. "In order to put this episode of high inflation behind us, further policy tightening, maintained for a longer time, will likely be necessary."
For more news, information, and analysis, visit the Leveraged & Inverse Channel.
---
Content continues below advertisement