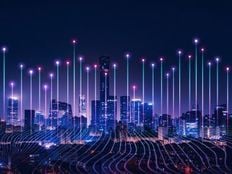 Leveraged & Inverse ETF Channel
With the Nasdaq 100 Index up almost 30% for the year, big tech continues to climb. Apple and Microsoft are two names that are helping big tech's 2023 rally and the S&P 500 Index overall.
The S&P 500 is up over 8% for the year and the index has that duo to thank for its recent gains. With positive earnings and brighter forecasts after last year's bearish run, Apple and Microsoft are now a bigger piece of the S&P 500 pie.
"So far this year, (AAPL) and (MSFT) have collectively added over $1 trillion in market value, accounting for nearly half of the S&P 500's gains," a Yahoo Finance article said.
"The combined weight of these two tech giants in the benchmark reached an all-time high of 14% last month," the article added. "This surge comes on the heels of robust earnings reports, particularly from Microsoft, which ignited a remarkable rally in technology stocks."
Per another Yahoo Finance article, those missing out on the big tech rally are mutual funds. The article noted that the "average fund is 15 percentage points underweight Apple Inc., Microsoft Corp., Alphabet Inc., Amazon.com Inc., Nvidia Corp., Tesla Inc. and Meta Platforms Inc." This is per Goldman Sachs' analysis. "The underweight positions of core and growth funds in the largest tech stocks have been a significant headwind to returns amid this year's narrow market rally."
Analyst Response
This is perplexing some analysts, especially given big tech's performance this year. Big tech is successfully sloughing off 2022. Inflation, rate hikes, mass layoffs, and gloomy profit forecasts put downward pressure on the sector.
"For benchmarked investors, being underweight those stocks in a rally is extremely painful because obviously they're massive in the index," Raphael Thuin, head of capital markets at Tikehau Capital, said. He continued in a London interview. "A lot of reluctant investors who don't love this market but needed to get exposed went into tech: it's a bit of an easy trade."
---
Content continues below advertisement
3 Opportunities to Capitalize on the Tech Sector Rally
Traders who think the bullish run should continue for the rest of the year can give the (AAPU ) and the (MSFU ) a look. These single stock ETFs give traders added leverage of 50% more exposure to maximize gains.
Additionally, traders can also get more broad exposure to big tech's rally with the (TECL A-). With its triple leverage, TECL is certainly not for the weak of heart. The fund seeks daily investment results equal to 300% of the daily performance of the Technology Select Sector Index.
For more news, information, and analysis, visit the Leveraged & Inverse Channel.