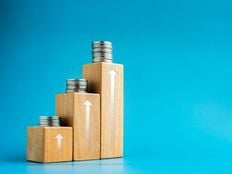 Leveraged & Inverse ETF Channel
Top Performing Levered/Inverse ETFs Last Week
These were last week's top performing leveraged and inverse ETFs. Note that because of leverage, these kinds of funds can move quickly. Always do your homework.
After last week's elections, it's no wonder that we're seeing the Indxx MicroSectors Cannabis 2X Leveraged ETN (MJO C) near topping the returns chart for the past week. Voters have passed measures to legalize cannabis in Arizona, Mississippi, Montana, New Jersey and South Dakota, making the leveraged note an excellent bet. Both MJO and this week's top gainer (SOXL B+), the Direxion Daily Semiconductor Bull 3x Shares saw returns over 41%.
Brazil was also a big winner this past week. Two different leveraged funds, the ProShares Ultra MSCI Brazil Capped Fund (UBR C+) and the Direxion Daily Brazil Bull 2X Shares Fund, pulled in returns of almost 30%.
| Ticker | Name | 1 Week Return |
| --- | --- | --- |
| (SOXL ) | Direxion Daily Semiconductor Bull 3x Shares | 41.55% |
| (MJO ) | Indxx MicroSectors Cannabis 2X Leveraged ETN | 41.22% |
| (WEBL ) | Daily Dow Jones Internet Bull 3X Shares | 32.13% |
| (TECL ) | Direxion Daily Technology Bull 3X Shares | 30.63% |
| (UBR ) | ProShares Ultra MSCI Brazil | 29.83% |
| (BRZU ) | Direxion Daily Brazil Bull 2X Shares | 29.81% |
| (EURL ) | Direxion Daily FTSE Europe Bull 3x Shares | 29.09% |
| (KOLD ) | ProShares UltraShort Bloomberg Natural Gas | 29.00% |
| (TQQQ ) | ProShares UltraPro QQQ | 28.91% |
| (KORU ) | Direxion Daily South Korea Bull 3X Shares | 26.02% |