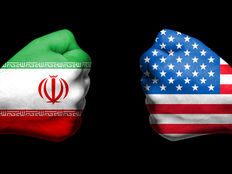 Leveraged & Inverse ETF Channel
Last year, the US withdrew from the Iran nuclear deal, and encouraged buyers to cut off oil imports from that country. The administration granted several countries—China, Greece, India, Italy, Japan, South Korea, Taiwan and Turkey—temporary waivers to avoid price shocks. The withdrawal was part of a high-pressure campaign against Iran, to curtail its nuclear program and stop backing militant proxies across the Middle East. On Monday, the US declared it would end sanctions waivers starting in May, in an effort to drop Iranian oil exports to zero, oil prices surged 3% to a 6-month high. This may be good news for oil & gas companies that face investor skepticism going into earnings week.
The underlying index for Direxion's Daily S&P Oil & Gas Exp. & Prod. Bull 3X Shares ETF (GUSH ) and Daily S&P Oil & Gas Exp. & Prod. Bear 3X Shares ETF (DRIP ) is the S&P Oil & Gas Exploration & Production Select Industry Index. This equal-weighted index includes companies that develop and operate fields to extract crude oil and natural gas. Major companies include Apache, ConocoPhillips, and Exxon Mobil. Lesser known names like Rice Energy and Rosetta Resources are also part of the index.
Year-to-date, the index is up around 24% as of 4/22/19. Is there any end in sight?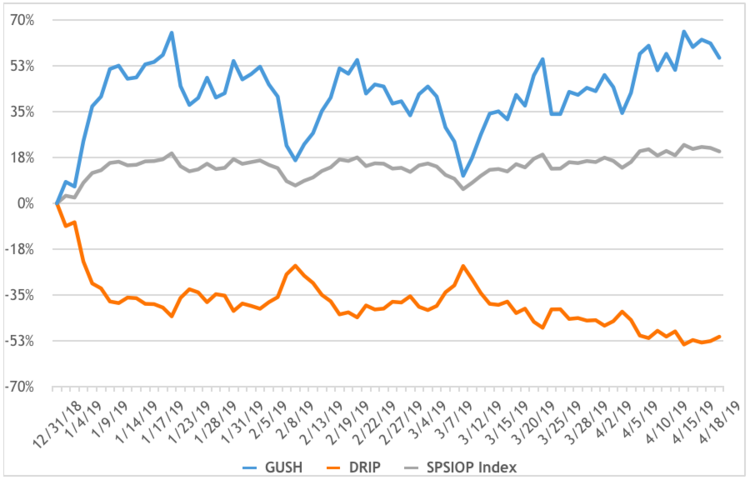 What Could go Wrong?
Exploration and production companies concentrate their efforts almost exclusively on exploring for, acquiring, and producing oil and natural gas. Firms in the sector face myriad risks, including political and regulatory scrutiny, exploration risk, operational risks, and of course commodity price volatility. Which one of these risks seems most likely? Oil & Gas bears may point to concerns stemming from the potential for a global recession, as Europe grapples with a slowdown and continues to deal with the uncertainties of Brexit. During the Global Financial Crisis, the oil demand fell of the table in a relatively short period. Don't forget that trade negotiations between the US and China still loom. If discussions break down, oil demand could drop not just because of less physical trade, but also because of possible broader negative impact on the global economy. Also, because oil is priced in US dollars, if the greenback continues to rise, it could put negative pressure on prices.
---
Content continues below advertisement
Either Way, There's a trade.
If you're bullish on the sector, and you're interested in a bold trade on oil & gas exploration and production, consider (GUSH). If you think the oil & gas is a bust, and want to make a bold trade, consider (DRIP).
Direxion's Leveraged and Inverse ETFs allow you to express your opinion in a way that's athletic and flexible. Find out more.
Related Leveraged ETFs
Direxion Daily S&P Oil & Gas Exp. & Prod. Bull 3X Shares ETF
Direxion Daily S&P Oil & Gas Exp. & Prod. Bear 3X Shares ETF
Direxion Daily Energy Bull 3X Shares ETF
Direxion Daily Energy Bear 3X Shares ETF
This leveraged ETF seeks investment results that are 300% of the return of its benchmark index for a single day. The ETF should not be expected to provide returns which are three times the return of its benchmark's cumulative return for periods greater than a day. Investing in a Direxion Shares ETF may be more volatile than investing in broadly diversified funds. The use of leverage by an ETF increases the risk to the ETF. The Direxion Shares ETFs are not suitable for all investors and should be utilized only by sophisticated investors who understand leverage risk, consequences of seeking daily leveraged investment results and intend to actively monitor and manage their investment.
GUSH/DRIP Risks – An investment in each Fund involves risk, including the possible loss of principal. Each Fund is non-diversied and includes risks associated with the Funds' concentrating their investments in a particular industry, sector, or geography which can increase volatility. The use of derivatives such as futures contracts and swaps are subject to market risks that may cause their price to fluctuate over time. Each Fund does not attempt to, and should not be expected to, provide returns which are three times the performance of their underlying index for periods other than a single day. Risks of each Fund include Effects of Compounding and Market Volatility Risk, Leverage Risk, Market Risk, Aggressive Investment Techniques Risk, Liquidity Risk, Counterparty Risk, Intra-Day Investment Risk, risks specific to investment in the securities of the Energy Sector and the Oil and Gas Industry. Companies in oil and gas exploration industries develop and produce crude oil and natural gas and provide drilling and other energy resources production and distribution related services. Stock prices for these types of companies are affected by supply and demand both for their specic product or services and for energy products in general. Additional risks include, for the Direxion Daily S&P Oil & Gas Exp. & Prod. Bull 3X Shares, Daily Index Correlation/Tracking Risk, and Other Investment Companies (including ETFs) Risk, and for the Direxion Daily S&P Oil & Gas Exp. & Prod. Bear 3X Shares, Daily Inverse Index Correlation/Tracking Risk, and risks related to Shorting and Cash Transactions. Please see the summary and full prospectuses for a more complete description of these and other risks of each Fund.
S&P Oil & Gas Exploration & Production Select Industry Index (SPSIOPTR) – Provided by Standard & Poor's Index Provider and includes domestic companies from the oil and gas exploration and production sub-industry. The Index is designed to measure the performance of a sub-industry or group of sub-industries determined based on the Global Industry Classification Standards (GICS). One cannot directly invest in an index.