Leveraged & Inverse ETF Channel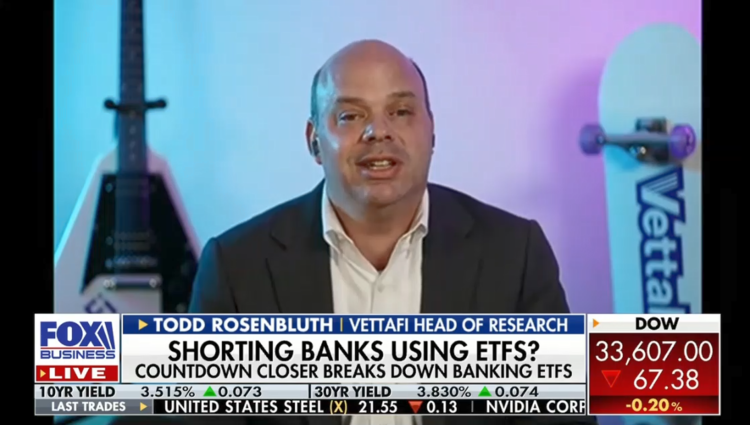 VettaFi's head of ETF research Todd Rosenbluth joined Fox Business Tuesday to talk banks shorting stocks with ETFs. Rosenbluth, speaking with host Liz Claman, pointed out that financials ETFs have been seeing strong engagement at VettaFi.
"On financial ETFs, we've seen really strong engagement at VettaFi from our audience in recent weeks," Rosenbluth explained.
Investors can consider options like the (KRE A-) for its liquidity and equal weight approach, Rosenbluth added. ETFs like KRE and the (IAT B+) offer investors the ability to play whole industries, too.
"Instead of picking one or two stocks that either you're in favor of long or you're against on the short, you're doing more of an industry call that there's going to be continued pressure within the regional banking space," Rosenbluth said. Investors can also use options on those ETFs to express views on a given industry, as well.
Rosenbluth on Inverse and Leveraged ETFs
Responding to a question from Claman on inverse and leveraged ETFs, Rosenbluth reminded investors to use them carefully. Inverse and leveraged ETFs can in some cases offer up to 3x bull or bear exposure to a security. That means that they need daily monitoring, however, given that they can rise or fall quickly.
"The longer that you hold an inverse or leveraged ETF … that pain can reverse itself," he said. "We recommend investors use those products on a very tactical basis for a short time horizon."
For those comparing fees between passive and active plays at shorting stocks with ETFs, Rosenbluth compared a powerful duo. Investors may want to consider the (SPY A) and the (CGDV A-). SPY charges just nine basis points (bps) while CGDV actively invests and charges 33 bps, adding dividends, too. Both provide long alternatives to more short-focused options.
"You're getting really low cost ETFs within the active space, not just the index space," Rosenbluth concluded.
For more news, information, and analysis, visit VettaFi | ETFDB.
---
Content continues below advertisement