Just days since the SPDR S&P 500 ETF (SPY A) celebrated its 30th birthday, investors may be looking around the booming world of ETFs to find the next billion-dollar idea or strategy. One way to scrutinize and identify the right ETF may be looking at advisor habits and the trends they're looking at this year. For VettaFi's editor-in-chief Lara Crigger, that begins and ends with data, in her presentation "Tickers, Themes, and Trends, Oh My!" at the Exchange ETFs conference in Miami.
At VettaFi, the proprietary metric to identify and quantify research trends is advisor engagement. To do that, VettaFi puts together webcasts including surveys and polling data across ETF Trends, ETF Database, and Advisor Perspectives to create a broad and deep sandbox for advisors to do their due diligence research.
"We're looking for patterns in the short and the long term, because those patterns are going to become trends," Crigger said.
Crigger shared an anecdote from her time as a professional astronomer looking for extrasolar planets, relating how astronomers take their telescopes and point them at the stars for a very long time waiting for just the slightest blips.
"In those blips, suddenly it becomes a pattern. And in that pattern, there's a whole world waiting to be discovered. When I think of advisor engagement data, it's just as powerful and just as informative of a data set in finding the signal in the noise as finding a whole world."
Looking to examples in the data, Crigger pointed out trends in asset classes — for example, interest in international equities recently hit their highest point since the onset of the Russia-Ukraine war last Spring. At the same time, research into commodities hit its lowest point in more than a year, despite food prices rising.
"Advisors are looking at the market right now and asking is this the time? Are valuations attractive enough to get back in a more meaningful way into these markets?" Crigger said of those two areas.
VettaFi looks to ETFs with the most engagement, as well, which may often line up with the most traded names but occasionally offers some surprises. In 2022, the tanking tech sector kept investors on their toes with investors sticking around in the Nasdaq rubbernecking, with income a major theme as well, Crigger explained, pointing out the solid year for the JPMorgan Equity Premium Income ETF (JEPI A).
"At one point JEPI had a return of 14%, which is astonishing, so it makes sense why JEPI was the belle of the ball last year," Crigger said.
What's trending now? The data shows that JEPI and equity income continue to be major solutions to the problem of providing client income, with the strategy the poster child for the broader push for income.
The Invesco Solar ETF (TAN C+), with the highest five-year return of more than 3,000 ETFs tracked by VettaFi, also stood out as a performance story. The SPDR Gold Shares ETF (GLD A-), meanwhile, has seen a rally as investors have shifted to a more defensive posture.
But while those may be today's big names, it's in finding "The Rising ETF Stars" in which engagement can be such a powerful tool, Crigger explained, adding that like for astronomers, it's in the movement of the light where the most powerful data can be found.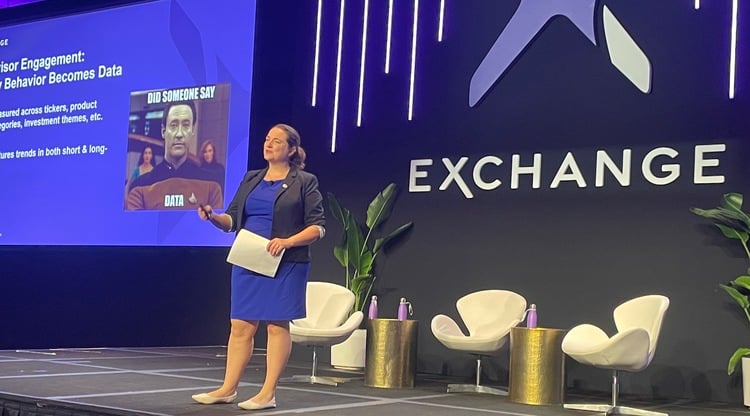 So while not every emerging trend will last, metrics like year-over-year engagement changes can be telling. For example, managed futures have stood out, with the iMGP DBi Managed Futures Strategy ETF (DBMF B+) up 913% y-o-y in engagement and the KFA Mount Lucas Managed Futures Index Strategy ETF (KMLM C) up 471%.
The Fed's actions instigating a choppy market have also driven investors to ultra-short duration treasuries in strategies like the WisdomTree Floating Rate Treasury Fund (USFR A-), which saw engagement up 338% y-o-y.
Perhaps the most interesting trend, Crigger said, were strategies like the Core Alternative ETF (CCOR A-) and the ETC 6 Meridian Hedged Equity Index Option ETF (SIXH B+) with 392% and 195% engagement spikes y-o-y, active strategies that reflect a "for advisers, by advisers" mentality in which advisors package strategies from SMAs, for example.
What about so far in 2023? International ETFs especially in the Eurozone and ex-U.S. strategies are in the top ten based on month-over-month engagement (m-o-m) with the iShares MSCI Eurozone ETF (EZU) and the SPDR EURO STOXX 50 ETF (FEZ) up 183% and 131% while the iShares MSCI ACWI ex U.S. ETF (ACWX A-) was up 121% in m-o-m engagement.
Adding a particular wrinkle to gold, while GLD was up significantly last year, the SPDR Gold MiniShares Trust (GLDM ) is up 92% m-o-m so far this year, with its smaller gold allotment a key factor, Crigger said.
"Retail investors of course but also advisors who might be thinking about trying to allocate a little chunk of their clients portfolios to a strategy that can work in the long term. GLDM also charges a smaller expense ratio than GLD," she said, explaining that its smaller gold-per-share allotment takes the handle of fund from around $170 per share to around $30 or $40 per share.
VettaFi's ETF lists, Crigger said, highlight the most intriguing themes being researched right now. In 2022, bond ETFs and dividend ETFs were among the top lists, with dividend ETFs the highest. Crude oil ETFs and Aerospace and Defense ETFs may have benefitted from geopolitical events, while market volatility and single stock ETFs drew in interest in leveraged and inverse ETFs.
In 2023? The top list is now gold ETFs, followed by dividend ETFs, bond ETFs, and India and China ETFs separately as emerging markets look to rebound. With VettaFi's website, Crigger said, those tools and the whole of the ETF Database suite is available.
For more coverage of the Exchange conference, please visit VettaFi | ETFDB.
---
Content continues below advertisement