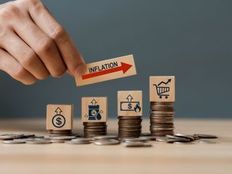 January's inflation report eased slightly but still surprised to the upside of expectations, rising 0.5% month-over-month and 6.4% year-over-year on expectations of 0.4% and 6.2%, respectively. Core inflation, a measurement the Fed watches closely, also came in higher than analyst expectations and is likely to contribute to continued market uncertainty and volatility, an environment that managed futures capitalize on.
CPI rose just 0.1% in December month-over-month, and January's 0.5% could be an indicator that inflation will be both higher and more persistent than markets are currently pricing for. Core inflation that excluded energy and food was up 0.4% from December and 5.6% from a year ago on expectations of 0.3% and 5.5% gains.
"Inflation is easing but the path to lower inflation will not likely be smooth," Jeffrey Roach, chief economist at LPL Financial, told CNBC. "The Fed will not make decisions based on just one report but clearly the risks are rising that inflation will not cool fast enough for the Fed's liking."

Recent Fed language has included a discussion on the disinflationary environment that is beginning to coalesce in response to aggressive rate hikes and quantitative tightening, and markets are currently anticipating two more 0.25% rate hikes between March and May. Should the inflation narrative shift to one of persistence, it could see the Fed hiking even higher than the predicted 5.25% terminal rate, a level last seen between 2006–2007 ahead of the 2008 financial crisis and subsequent recession.
"The strength of core inflation suggests that the Fed has a lot more work to do to bring inflation back to 2%," Maria Vassalou, co-CIO of multi-asset solutions at Goldman Sachs Asset Management, told CNBC. "If retail sales also show strength tomorrow, the Fed may have to increase their funds rate target to 5.5% in order to tame inflation."
---
Content continues below advertisement
Invest for Inflation Uncertainty With DBMF
Managed futures strategies largely offered strong performance last year, capitalizing on market volatility and dislocations. The iMGP DBi Managed Futures Strategy ETF (DBMF B+) has been an immensely popular choice for advisors and investors alike in the last year. With the economic downturn and challenges ahead this year, DBMF could be positioned for continued outperformance; at a minimum, it offers strong hedging potential for equity underperformance in the near term and helps take the guesswork out of timing market performance and the inflation narrative.
DBMF allows for the diversification of portfolios across asset classes uncorrelated to traditional equities or bonds. It is an actively managed fund that uses long and short positions within the futures market on several asset classes: domestic equities, fixed income, currencies, and commodities (via its Cayman Islands subsidiary).
The fund's position within domestically managed futures and forward contracts is determined by the Dynamic Beta Engine, which analyzes the trailing 60-day performance of CTA hedge funds and then determines a portfolio of liquid contracts that would mimic the hedge funds' averaged performance (not the positions).
DBMF takes long positions in derivatives with exposures to asset classes, sectors, or markets that are anticipated to grow in value and takes short positions in derivatives with exposures expected to fall in value.
DBMF has management fees of 0.85%.
For more news, information, and analysis, visit the Managed Futures Channel.