The increased popularity of portfolio diversifiers in the last few years seems a reasonable response to prolonged market stress and uncertainty. Add in the correlation of stocks and bonds in the U.S. in the last two years and it's no wonder advisors and investors continue to seek out non-correlated diversifiers like iMGP DBi Managed Futures Strategy ETF (DBMF B+).
The market narrative of a soft landing for the economy looks increasingly challenged. A still resilient jobs market alongside relatively strong consumer spending over the summer and into the fall continues to prove a thorn in the side of the Fed's inflation-fighting agenda. That along with a multiplicity of supply-side inflationary pressures could keep inflation from the 2% Fed target for longer than investors originally hoped.
All told it creates heightened investor concern about another rate hike late this year or early next year. Meanwhile, the usual September slump for markets is underway, with the S&P 500 down 2.31% for the month on a price returns basis. The dip comes at a time when tech concentration is pronounced in the S&P 500 and concerns about sustained equity performance appears to be growing.
In this uncertain market, DBMF is receiving significant inflows. Last week the fund had net flows of $132 million, the largest weekly inflow since the fund's inception.
"I think the strategy can be really compelling as a diversifier given that correlations between stocks and bonds have been climbing again," Athanasios Psarofagis, BI ETF Analyst at Bloomberg, told VettaFi. "I also think the inflows show that investors might be believing the good times in the equity market are about to slow down."
See also: Mind the Macro: The Decade of Portfolio Diversification
DBMF: A Rocky Start Leads to Strong Recovery
DBMF fell precipitously in March in the wake of the mini banking crisis but has made strong gains since. From March lows, the fund climbed over 10%. Over the same period, the SPDR S&P 500 ETF Trust (SPY A) was up 11.41% and the iShares Core US Aggregate Bond ETF (AGG A) dropped 4.65%.  DBMF is down just 2.58% YTD as of 09/19/23.
It's noteworthy momentum at a time when stocks and bonds are once more moving in increased correlation. Last year when stocks and bonds both fell in tandem, DBMF was one of just a few non-correlated diversifiers to perform strongly.
---
Content continues below advertisement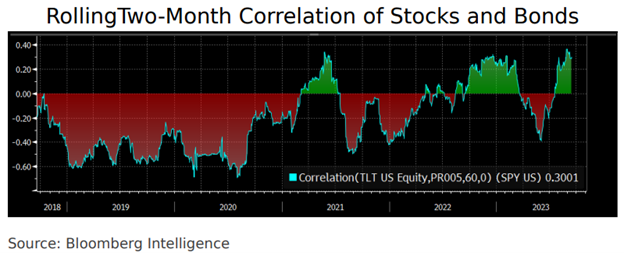 Increasing portfolio diversification allocations makes sense in the current market regime of prolonged volatility and stock and bond correlations. The iMGP DBi Managed Futures Strategy ETF (DBMF B+) is actively managed and uses long and short positions within futures contracts primarily, as well as forward contracts. These contracts span domestic equities, fixed income, currencies, and commodities (via its Cayman Islands subsidiary). Because the strategy transacts in futures, it offers a low to negative correlation to stocks and bonds.
The Dynamic Beta Engine determines the position that the fund takes within domestically managed futures and forward contracts. This proprietary, quantitative model attempts to ascertain how the largest commodity-trading advisor hedge funds have their allocations. It does so by analyzing the trailing 60-day performance of CTA hedge funds and then determining a portfolio of liquid contracts that would mimic the average of the hedge funds' performance (not the positions).
By offering the hedge fund strategy in an ETF wrapper, DBMF can generate "fee alpha" through significant savings in fees compared to a 2/20 hedge fund fee structure.
DBMF has a management fee of 0.85%.