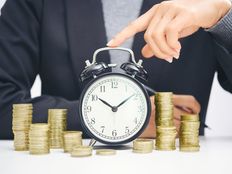 As earnings season continues, equities remain largely afloat but as recession risk looms on the horizon, a number of asset classes face a challenging second half. For advisors and investors looking for non-correlated options to stocks and bonds, the (DBMF B+) continues to provide significant diversification opportunities for portfolios.
Ongoing regional bank contagion fears continue to drive investor and market uncertainty, and a number of regional bank stocks gave up Friday and early Monday morning gains after falling precipitously last week, reported CBNC. Banking fear is just one string in a complicated market tapestry of prolonged volatility and challenge for a number of asset classes.
Managed futures funds dropped in the collapse of regional banks in March and the abrupt reversal of the inflation trend that they profited from in 2022. Though many are down year-to-date, they still provide strong diversification opportunity for portfolios and a non-correlated return stream.
See also: Andrew Beer Discusses the Collapse of the Inflation Trade and DBMF
This Managed Futures ETF Provides Diversification
The (DBMF B+) allows for diversification across asset classes uncorrelated to traditional equities or bonds. It is an actively managed fund that uses long and short positions within the futures market on several asset classes. These include domestic equities, fixed income, currencies, and commodities (via its Cayman Islands subsidiary).
---
Content continues below advertisement

As demonstrated in the chart above, DBMF maintains low correlations to broad commodities. The fund also offers extremely low correlations to the Dow Jones Industrial Average, the S&P 500, and the Russell 2000. In addition, DBMF maintains negative correlations the Nasdaq and significant negative correlation to bonds. (Correlations calculated using weekly returns calculated back a maximum of three years.)
The fund's position within domestically managed futures and forward contracts is determined by the Dynamic Beta Engine. This analyzes the trailing 60-day performance of CTA hedge funds, then determines a portfolio of liquid contracts to mimic the hedge funds' averaged performance (not the positions).
DBMF is currently down 8.40% YTD as of May 5, 2023, presenting a buying opportunity for those seeking long-term diversification.
See also: 3 Questions Investors Are Currently Asking About Managed Futures
DBMF takes long positions in derivatives with exposures to asset classes, sectors, or markets anticipated to grow in value. It takes short positions in derivatives with exposures expected to fall in value.
DBMF has management fees of 0.85%.
For more news, information, and analysis, visit the Managed Futures Channel.