Managed futures offer a number of benefits to portfolios, including risk and volatility mitigation and a return stream uncorrelated with stocks and bonds. While they're considered the risk insurance play for portfolios, the iMGP DBi Managed Futures Strategy ETF (DBMF B+) currently offers better total returns since inception than the broad S&P, making it a noteworthy fund on several levels.
Managed futures strategies largely offered strong performance last year, capitalizing on market volatility and dislocations, and they have been an immensely popular choice for advisors and investors alike in the last year. Given the number of risks still at play for global markets, DBMF could be positioned for continued outperformance; at a minimum, it offers strong hedging potential for equity underperformance in the near term and helps take the guesswork out of timing market performance and the inflation and Fed narrative.
The iMGP DBi Managed Futures Strategy ETF (DBMF B+) was launched May 8, 2019 and has capitalized on the market dislocation and volatility of the last year. From inception to now, DBMF has total returns of 49.90% compared to the SPDR S&P 500 ETF Trust (SPY A) total returns of 46.17% over the same period. For correlation purposes, the total return of the iShares Core US Aggregate Bond ETF (AGG A) over the same time period is -3.29%.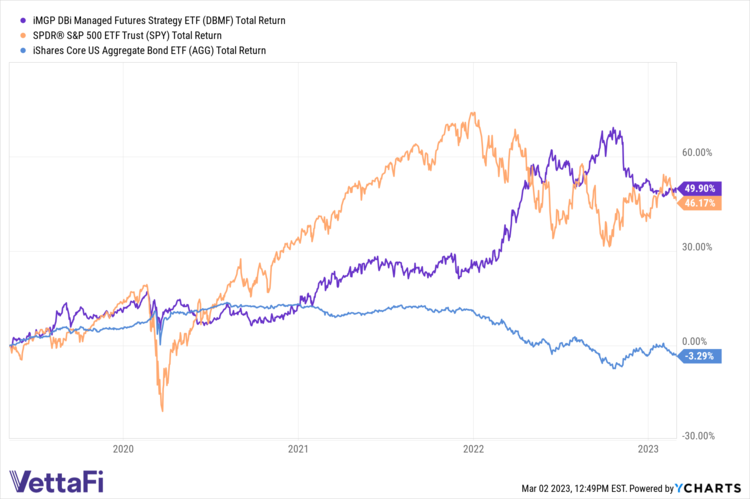 "Managed futures are intended to zig when the stock market zags, so it is great to see in the market volatility of the last three years, the leader managing futures ETF is doing what it should to add diversification for advisors. It's no surprise demand for DBMF has been so strong in the past year," said Todd Rosenbluth, head of research at VettaFi.
DBMF allows for the diversification of portfolios across asset classes uncorrelated to traditional equities or bonds. It is an actively managed fund that uses long and short positions within the futures market on several asset classes: domestic equities, fixed income, currencies, and commodities (via its Cayman Islands subsidiary).
Currently, DBMF is long on the euro and MSCI EAFE, and short on everything else, including U.S. Treasuries, bonds, U.S. equities, and emerging markets, as of March 1, 2023.
The fund's position within domestically managed futures and forward contracts is determined by the Dynamic Beta Engine, which analyzes the trailing 60-day performance of CTA hedge funds and then determines a portfolio of liquid contracts that would mimic the hedge funds' averaged performance (not the positions).
DBMF takes long positions in derivatives with exposures to asset classes, sectors, or markets that are anticipated to grow in value and takes short positions in derivatives with exposures expected to fall in value.
DBMF has management fees of 0.85%.
For more news, information, and analysis, visit the Managed Futures Channel.
---
Content continues below advertisement