Stocks for the transportation industry, as well as small-caps, have fallen behind the broad market as investors position for recession this year. In an environment of high interest rates, economic slowing, and potential recession, stocks and bonds are likely to continue to face challenges, and non-correlated diversification strategies such as managed futures could be worth consideration.
Transportation and small-cap stocks are two more economically sensitive asset classes that can indicate impending economic weakening or strengthening, and both are currently trailing their broader benchmarks.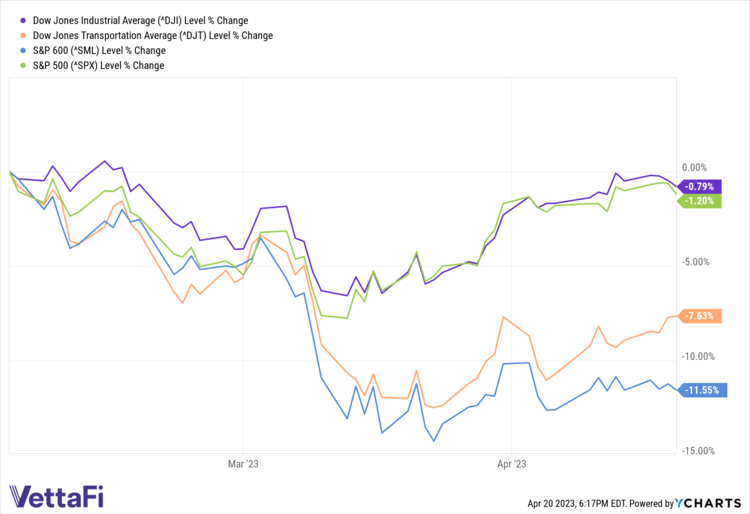 The Dow Jones Transportation Average has lagged the Dow Jones Industrial Average since hitting its high on February 2 this year; since then it has fallen -7.6% compared to the DJIA's drop of -0.79%. The Dow Jones Transportation Average tracks 20 large-cap U.S. transportation companies from industries such as trucking, airlines, and railroads.
Over the same period, small-caps, as measured by the S&P 600, have consistently lagged the S&P 500, dropping -11.55% compared to the S&P 500's drop of just -1.2%.
"Transportation investors are taking a negative view of the economy, and I think ultimately they will be proved right," Mahmood Noorani, CEO and founder of Quant Insight, told WSJ.
The drop in transportation stocks can also be attributed to specific newsworthy events, such as the derailing of a Norfolk Southern train in February in Ohio, and recent earnings expectations announcements from many airline companies that have disappointed. Freight companies such as J.B. Hunt, however, are contending with a "freight recession" brought on by deflationary prices alongside inflationary costs.
"There are concerns about the recession, volatile oil prices, and this is as good as it gets from a demand perspective," Helane Becker, airline analyst for Cowen, an investment bank, told WSJ.
See also: IMF Forecasts a Long Season of Global Economic Risk
---
Content continues below advertisement
Hedging for Recession Risk With DBMF
The (DBMF B+) allows for the diversification of portfolios across asset classes uncorrelated to traditional equities or bonds which are likely to offer muted performance for much of the year.
DBMF is an actively managed fund that uses long and short positions within the futures market on several asset classes: domestic equities, fixed income, currencies, and commodities (via its Cayman Islands subsidiary). The fund's position within domestically managed futures and forward contracts is determined by the Dynamic Beta Engine, which analyzes the trailing 60-day performance of CTA hedge funds and then determines a portfolio of liquid contracts that would mimic the hedge funds' averaged performance (not the positions).
DBMF takes long positions in derivatives with exposures to asset classes, sectors, or markets that are anticipated to grow in value and takes short positions in derivatives with exposures expected to fall in value, and has management fees of 0.85%.
For more news, information, and analysis, visit the Managed Futures Channel.