As markets contend with the end-of-summer doldrums, investors continue to seek out diversifying strategies. One of last year's star ETFs, the iMGP DBi Managed Futures Strategy ETF (DBMF B+), saw an influx of inflows in August as market volatility continued.
The S&P 500 is down over 3% this month and could end a months-long winning streak if the current downturn continues. August traditionally is a harder month for markets due to lighter trading volumes. According to CNBC Pro analysis, the S&P 500 gained just 0.1% in August over the last decade. Over the last two decades, the S&P 500 lost 0.1% in August on average.
Alongside equities slipping in August, Treasury yields reached new highs on fears of another interest rate hike and higher rates for longer. Yields and bond prices move inversely to each other. The 10-year Treasury note hit its highest yield in 16 years this week.
"The back end of the curve has bought into the central bank's very hawkish tone of late," David Rosenberg, economist and president of Rosenberg Research & Associates, told Barron's.
See also: Why Diversification Matters in Today's 'Impossible Market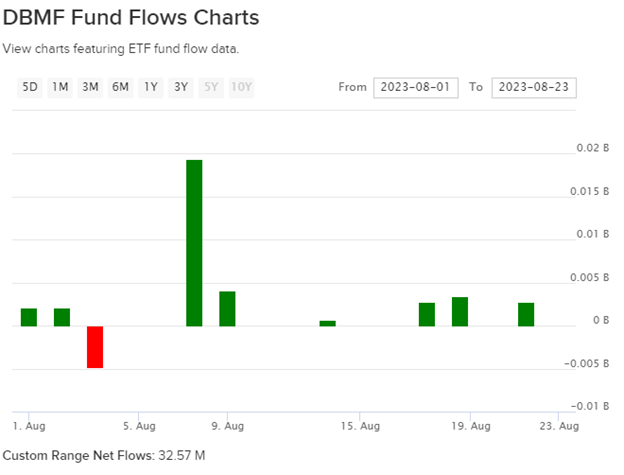 Amidst market volatility this month, the iMGP DBi Managed Futures Strategy ETF (DBMF B+) brought in new inflows of over $37 million so far in August (as of 08/23/2023). The fund's net flows for the month are $32.8 million over the same period.
DBMF is an actively managed fund that uses long and short positions within derivatives (mostly futures contracts) and forward contracts. These contracts span equities, fixed income, currencies, and commodities (via its Cayman Islands subsidiary).
Because the fund transacts in the futures market, it carries low and often negative correlations to stocks and bonds. It's a strong diversifier and can provide asynchronous returns when equities and bonds fall. Such was the case in 2022 when DBMF generated total returns of 21.53% compared to the S&P 500's -18.17% and the Agg's -13.03% returns.
The position that the fund takes within domestically managed futures and forward contracts is determined by the Dynamic Beta Engine. This proprietary, quantitative model attempts to ascertain how the largest commodity-trading advisor hedge funds have their allocations. It does so by analyzing the trailing 60-day performance of CTA hedge funds. DBE then determines a portfolio of liquid contracts that would mimic the hedge funds' performance (not the positions).
DBMF has a management fee of 0.85%.
---
Content continues below advertisement