The Fed's revelation of another likely interest rate hike this year continues to weigh heavily on markets. As equities and bonds fell in September, the non-correlated iMGP DBi Managed Futures Strategy ETF (DBMF B+) climbed, proving the value of diversification.
Persistent inflation and the threat of continued rate hikes remain the narrative of the last 18 months. It's an environment that DBMF performed strongly in last year. Despite a significant drawdown in the wake of the mini banking crisis in March, DBMF continues to demonstrate the value of non-correlated exposure and the benefit of trend strategies.
September historically is a challenging month for markets, and this year is no exception. The general slump coupled with the FOMC meeting outcome left the S&P 500 down 5.6% as of 09/26/2023, as measured by the SPDR S&P 500 ETF Trust (SPY A). Meanwhile, bonds continued their slide, with the iShares Core US Aggregate Bond ETF (AGG A) down 1.92%.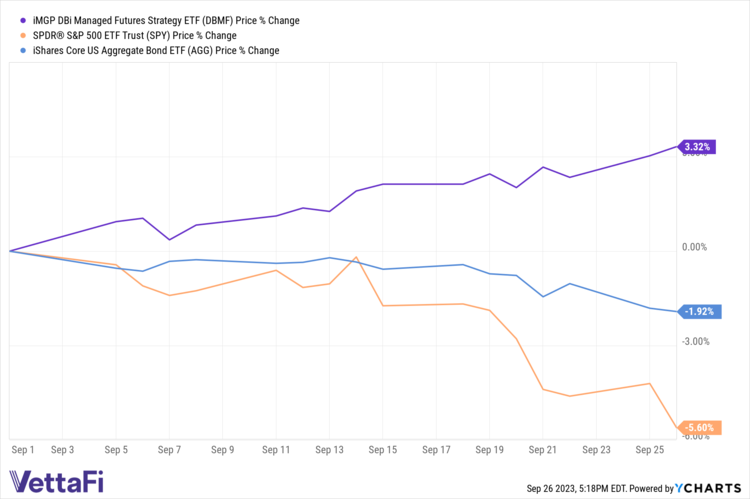 On the other hand, DBMF rose 3.32% over the same period. It continues to prove the benefit of non-correlated diversifiers, particularly in uncertain markets. What's more, investors have taken note: month-to-date the fund is up nearly $167 million in net flows.
See also: Mind the Macro: The Decade of Portfolio Diversification
---
Content continues below advertisement
Enhance Diversification With DBMF as Equities and Bonds Slide
The iMGP DBi Managed Futures Strategy ETF (DBMF B+) is actively managed and uses long and short positions within futures contracts primarily, as well as forward contracts. These contracts span domestic equities, fixed income, currencies, and commodities (via its Cayman Islands subsidiary). Because the strategy transacts in futures, it offers a low to negative correlation to stocks and bonds.
The Dynamic Beta Engine determines the position that the fund takes within domestically managed futures and forward contracts. This proprietary, quantitative model attempts to ascertain how the largest commodity-trading advisor hedge funds have their allocations. It does so by analyzing the trailing 60-day performance of CTA hedge funds and then determining a portfolio of liquid contracts that would mimic the average of the hedge funds' performance (not the positions).
By offering the hedge fund strategy in an ETF wrapper, DBMF can generate "fee alpha" through significant savings in fees compared to a 2/20 hedge fund fee structure.
DBMF has a management fee of 0.85%.
For more news, information, and analysis, visit the Managed Futures Channel.