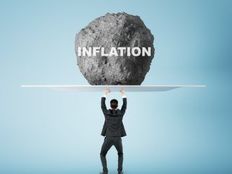 The era of free money, which lifted portfolios for much of the last decade, is over, and advisors will have to work harder to provide returns for clients.
As investment returns are going to be harder to generate on a go-forward basis, diversification will play an increasingly important role in portfolios. We believe the low-cost set-it-and-forget-it 60/40 portfolios will no longer provide the lucrative returns that investors have grown accustomed to.
For the second consecutive year, inflation will be a key theme in investing. Inflation will be stickier than people think, and as headline line numbers abate, beware of the siren calls of victory over inflation too soon, according to Kristof Gleich, president and CIO of Harbor Capital Advisors.
However, this challenging landscape unveils opportunities for advisors to add value to client portfolios. As advisors look to diversify portfolios and navigate stubborn inflation, the Harbor All-Weather Inflation Focus ETF (HGER) is a compelling solution. The fund aims to provide investors with an inflation hedge through exposure to the Quantix Inflation Index (QII), which is made up of liquid commodity futures, weighted towards the goal of maximizing the correlation to inflation.
Launched in February 2022, HGER has already amassed an impressive track record. The fund has increased 11.70% between inception (February 9) and January 12, compared to the Bloomberg Commodity Index's gain of 3.30% during the same period, each on a total return basis. Since December 12, HGER has gained 5.90% while the Bloomberg Commodity Index has declined -1.2%, each on a total return basis.
Notably, in the first half of 2022, HGER was the only inflation-focused ETF with positive returns.1
HGER's underlying index — the QII — is a dynamic commodity index with the objective of being a diversified inflation hedge for investors. The index places more weight on those commodities which have higher pass-through costs to inflation, such as gasoline, and a lower weighting to those with lower pass-through costs, such as cotton or cocoa.
The QII also includes a scarcity debasement indicator to indicate what the source of inflation is; in a debasement regime, where inflation is coming from a weaker USD, the QII tends to tilt toward gold, and in a scarcity regime, where inflation is coming from demand outstripping supply, the QII will tilt toward consumable commodities such as oil.
HGER, which carries an expense ratio of 68 basis points, is also designed to react to changing environments, lowering the risk of being tied up in a situation in which the futures price of a commodity is higher than the spot price.
For more news, information, and analysis, visit the Market Insights Channel.
1 VettaFI, ETF Trends, July 2022
Investors should carefully consider the investment objectives, risks, charges and expenses of a Harbor fund before investing. To obtain a summary prospectus or prospectus for this and other information, visit harborcapital.com or call 800-422-1050.  Read it carefully before investing.
Performance data shown represents past performance and is no guarantee of future results. Past performance is net of management fees and expenses and reflects reinvested dividends and distributions. Past performance reflects the beneficial effect of any expense waivers or reimbursements, without which returns would have been lower. Investment returns and principal value will fluctuate and when redeemed may be worth more or less than their original cost. Returns for periods less than one year are not annualized. Current performance may be higher or lower and is available through the most recent month end at harborcapital.com or by calling 800-422-1050.
All investments involve risk including the possible loss of principal.  Please refer to the Fund's prospectus for additional risks. For current performance and fees:  HGER
The Quantix Inflation Index is calculated on a total return basis, which combines the returns of the futures contracts with the returns on cash collateral invested in 13-week U.S. Treasury Bills. This unmanaged index does not reflect fees and expenses and is not available for direct investment. The Quantix Inflation Index was developed by Quantix Commodities LP and is owned by Quantix Commodities Indices LLC.
The Bloomberg Commodity Index is a broadly diversified commodity price index distributed by Bloomberg Index Services Limited. This unmanaged index does not reflect fees and expenses and is not available for direct investment.
Diversification in an individual portfolio does not assure a profit.
A "60/40 portfolio" is a guidepost portfolio for a moderate risk investor. Portfolio allocations of 60% allocation to equities to seek capital appreciation and 40% allocation to fixed income help mitigate risk and offer potential income. 
A basis point is one hundredth of 1 percentage point.
Quantix Commodities, LP is the subadvisor for the Harbor All-Weather Inflation Focus ETF (HGER)
This article was prepared as Harbor Funds paid sponsorship with VettaFI.
Foreside Fund Services, LLC is the Distributor of the Harbor ETFs.
2681863