The spending habits of Americans have been unpredictable and hard to get a handle on for forecasting trends, as consumer spending appears uncorrelated to economic data. Recent developments in the economy have led to mixed attitudes among consumers with little net change in February.
After three consecutive months of increases, consumer sentiment is now 6% above what it was a year ago, but still 14% below where it was two years ago, according to the University of Michigan Index of Consumer Sentiment.
"Overall, high prices continue to weigh on consumers despite the recent moderation in inflation, and sentiment remains more than 22% below its historical average since 1978," wrote Surveys of Consumers Director Joanne Hsu. "Combined with concerns over rising unemployment on the horizon, consumers are poised to exercise greater caution with their spending in the months ahead."
Meanwhile, the latest Conference Board Consumer Confidence Index decreased in January following an increase in December. "Consumer confidence declined in January, but it remains above the level seen last July, lowest in 2022," said Ataman Ozyildirim, senior director of economics at The Conference Board.
While consumer studies from the University of Michigan and Conference Board show that the overall mood of American consumers is still below pre-pandemic levels, reports from travel, services, and consumer goods companies show a rebound, and in some cases, an increase in spending.
Axios has quoted Jonathan Silver, CEO and founder of consumer purchase data platform Affinity Solutions, as saying during a National Retail Federation conference in New York: "We were surprised too, that consumer confidence is not highly correlated, at least for the past few years."
With consumer sentiment seemingly decoupled from spending patterns, there's a good chance that the big winners in the sector will be the companies that accommodate these changing shopping habits. That's where the Neuberger Berman Connected Consumer ETF (NBCC B-) can come into play. NBCC targets companies that demonstrate significant growth potential from connectivity-based consumerism.
The fund spans a broad range of industries globally and may invest in companies of any market cap. The team will evaluate the web search and spending tendencies of millions of consumers and the daily call transcripts and filings of over 4,000 public companies to identify the best opportunities for mass adoption in the digital age.
"For folks who trade consumer discretionary, the question is: does the passive index represent the change of leadership that one might see as the new generation takes that lion's share of discretionary spend?" said Fred Edwards, ETF specialist at Neuberger Berman.
Since its inception, NBCC has outperformed the NASDAQ 100 by more than 1,000 basis points.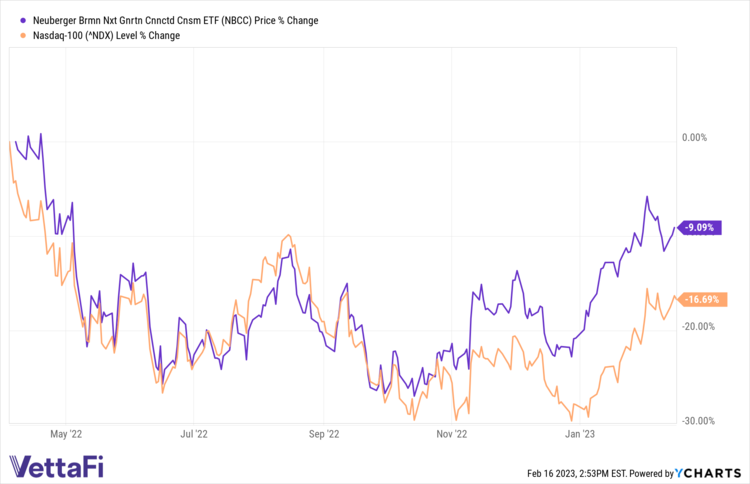 Because the fund is actively managed, the team can nimbly pivot to microtrends happening within the megatrend of the connected consumer.
"That's the case for active management: things change so quickly," Edwards said. "There is a big picture, but there's also the micro that's managed in real-time."
For more news, information, and analysis, visit the Megatrends Channel.
---
Content continues below advertisement